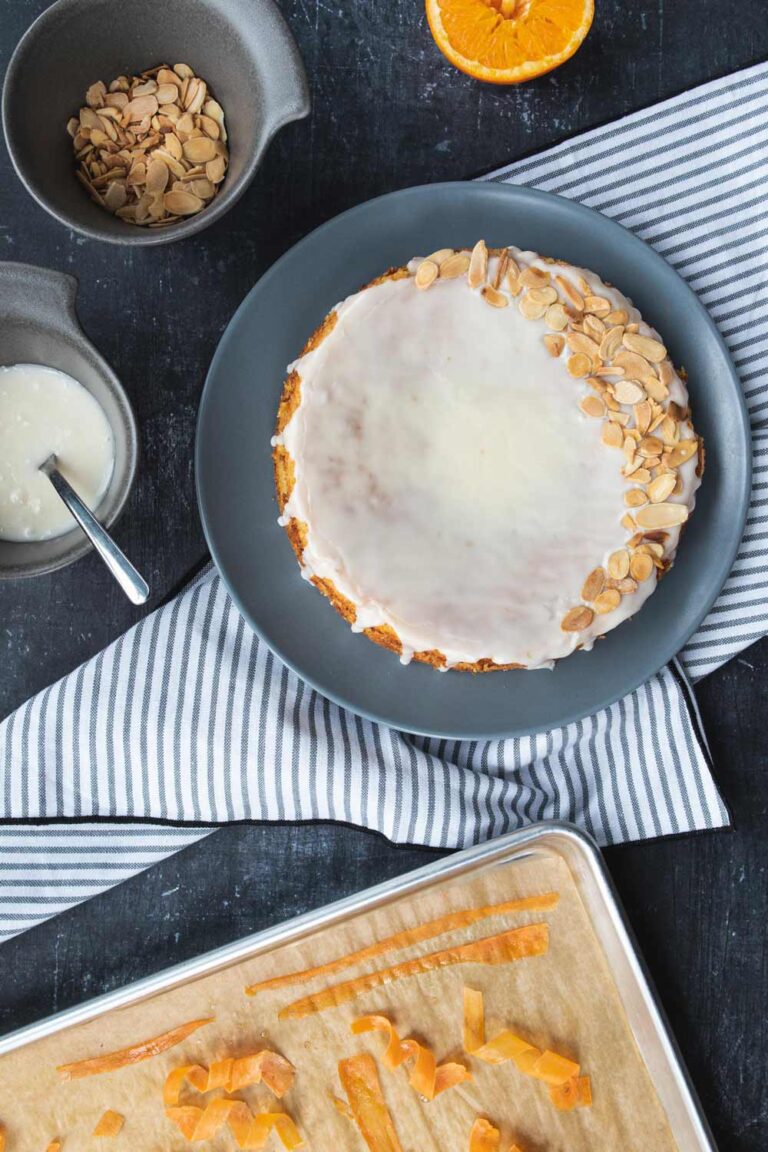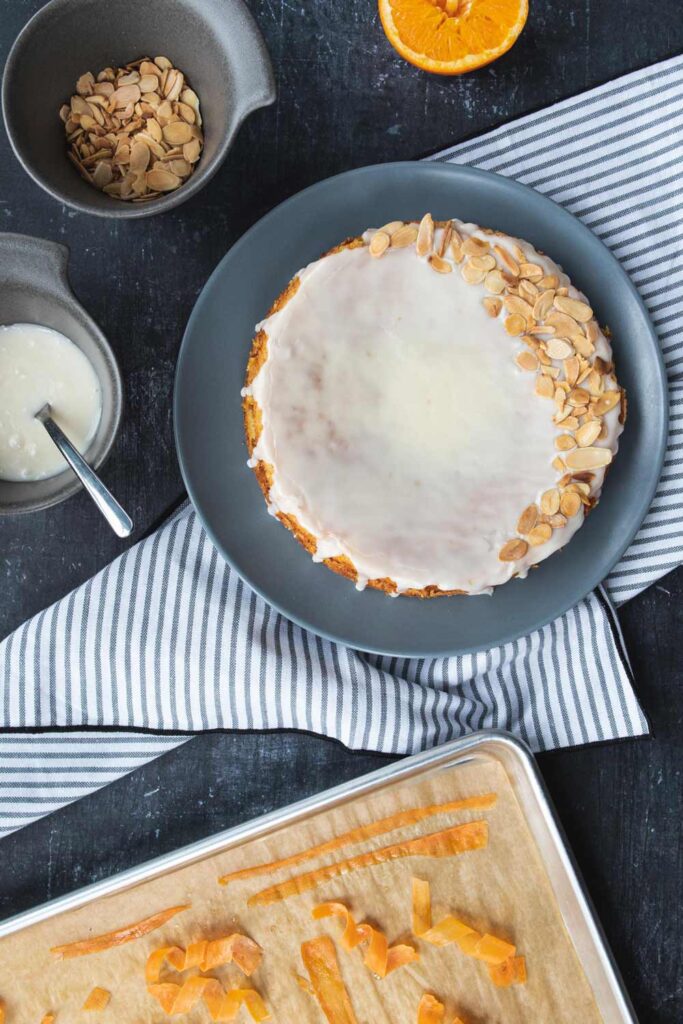 Carrot cake has a long history in the context of baking and pastry. Carrot cake as we know it has evolved from carrot puddings made since at least medieval times, which makes pinpointing its origin tricky. One of the earliest published carrot pudding recipes appears in Annals of the Caliphs' Kitchens: Ibn Sayyar al Warraq's Tenth Century Baghdadi Cookbook, a translation of a collection of recipes that date back to 950. In this carrot pudding, carrots are cooked with honey and nut oil.
Carrot pudding can be later be found in an English cookbook published in 1591, A Book of Cookrye: Very Necessary for All Such as Delight therin. While this recipe has many of the flavorings and spices included in modern carrot cakes it is essentially carrots stuffed with meat: liver, cloves, dates and sugar and served with broth. Another English recipe in 1654 from Physicall and Chyrurgicall Receipts: Cookery and Preserves moves closer to modern carrot cake by omitting the meat and cooking a carrot pudding in a pastry crust.
By the early 19th century, carrot cakes appear in England, France and Switzerland that would be recognizable today. Both the French and the English version seem to stem from a recipe included in L'art de Cuisinier published in 1814 by Antoine Beauvilliers, the former chef to Louis XVI (it's nice to know that at least chefs were spared during the French Revolution). Beauvilliers' book was translated to English and published in London in 1827, and his recipe was copied verbatim in The Household Encyclopedia; or Family Dictionary of Everything Connected with Housekeeping and Domestic Medicine in 1858. This seems to be the first time that a carrot dessert is officially referred to as carrot cake (as opposed to pudding).
Carrot Cakes. — Gâteaux de Carottes.
Take twelve large carrots, the reddest possible, boil them in water with a little salt; take out the hearts and drain them; put them through the cullender into a stewpan; dry them upon the fire, as pâte royale; make a cream pâtissière; put in as much flour as it will take; add the carrots with a little confected orange-flowers minced, three quarters of a pound of sifted sugar, four eggs one after another, six yolks, and a quarter of a pound of melted butter; mix all well; whip the whites; mix them in lightly; prepare a stewpan as for the gâteau de riz, three quarters of an hour before serving put it into the oven.
The Swiss recipe was published by the housekeeping school of Kaiseraugst in 1892. This recipe is quite different from the version prominent in the United Kingdom and United States, but the method is still very popular in Switzerland today. Kaiseraugst is a small town in the canton of Aargau, which has some of the most fertile farmland in Switzerland. Aargau is even nicknamed rüebliland, or "root vegetable land" since it was the main crop of the area in the 19th century.
The 1892 recipe calls for 500g each of carrots, sugar, and almonds. Eight eggs are separated and the yolks are mixed with the carrot, sugar, almonds, some lemon juice and zest. The egg whites are beaten and folded in to form a batter. The finished cake is then covered with a rum glaze.
This carrot cake lighter and less sweet than the British or American version. Because it is made with ground almonds rather than flour, it relies on the beaten eggs both for structure and leavening. Whipping the yolks and the egg whites separately makes a very light batter, resulting in a fluffy cake. Rather than cinnamon, nutmeg and raisins, rüeblitorte is traditionally flavored with Kirsch or lemon. I used orange because I like the combination of nutty almonds, earthy carrots and bright oranges. If you have some Kirsch or dark rum at home, or some extra lemons lying around, substitute them for the orange juice and zest.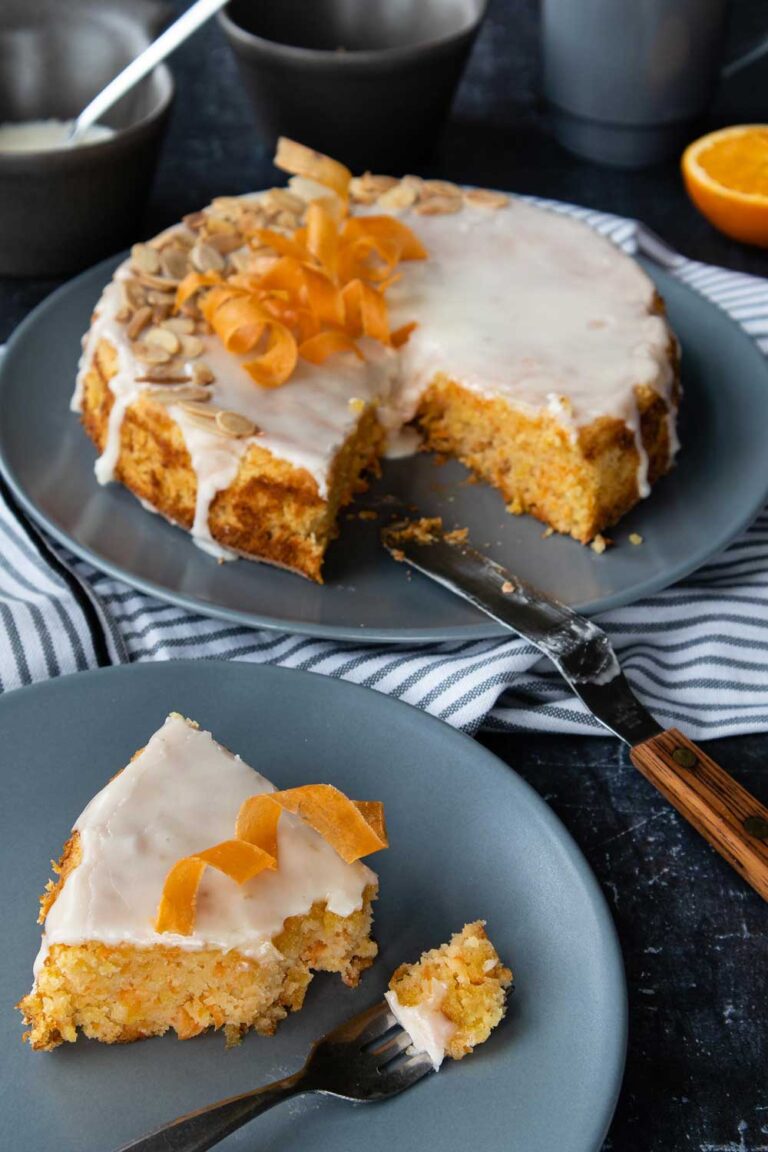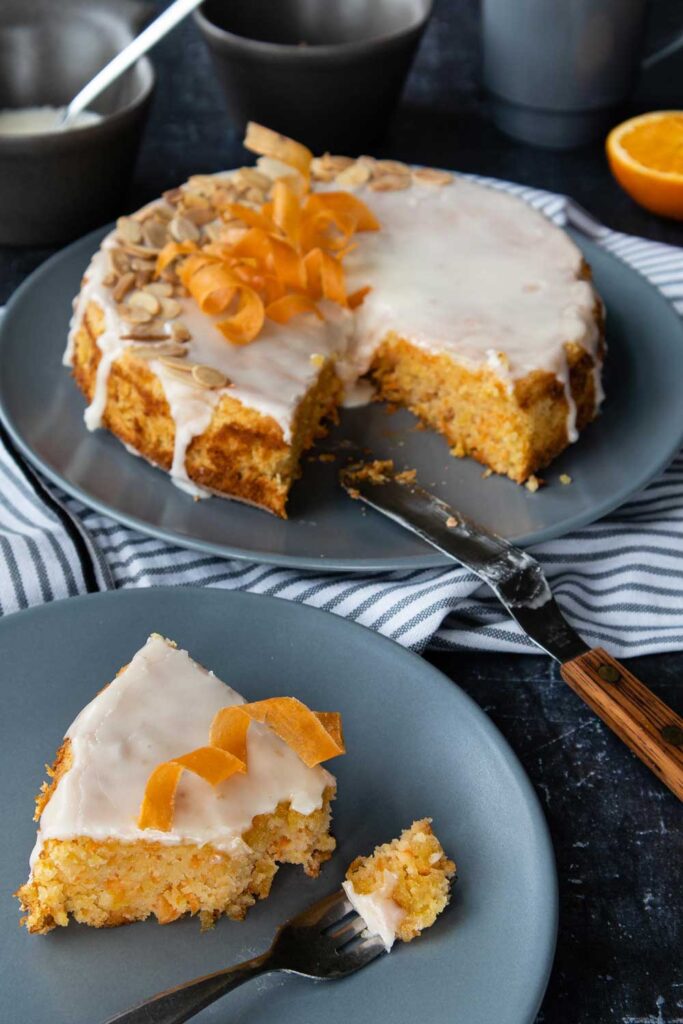 Ingredients:
Yields an 8-inch (20cm) round cake.
Carrot Cake:
3 egg yolks
185g granulated sugar

185g carrots, peeled and finely grated
185g almond flour
1 Tablespoon orange juice
1/2 teaspoon vanilla extract
1 teaspoon orange zest
1 teaspoon baking powder
1/2 teaspoon salt

3 egg whites

3 egg yolks
1 3/4 cups granulated sugar

1 2/3 cups finely grated carrots
1 3/4 cups almond flour
1 Tablespoon orange juice
1/2 teaspoon vanilla extract
1 teaspoon orange zest
1 teaspoon baking powder
1/2 teaspoon salt

3 egg whites

Glaze:
120g confectioners' sugar
2 Tablespoons orange juice
1 cup powdered sugar
2 Tablespoons orange juice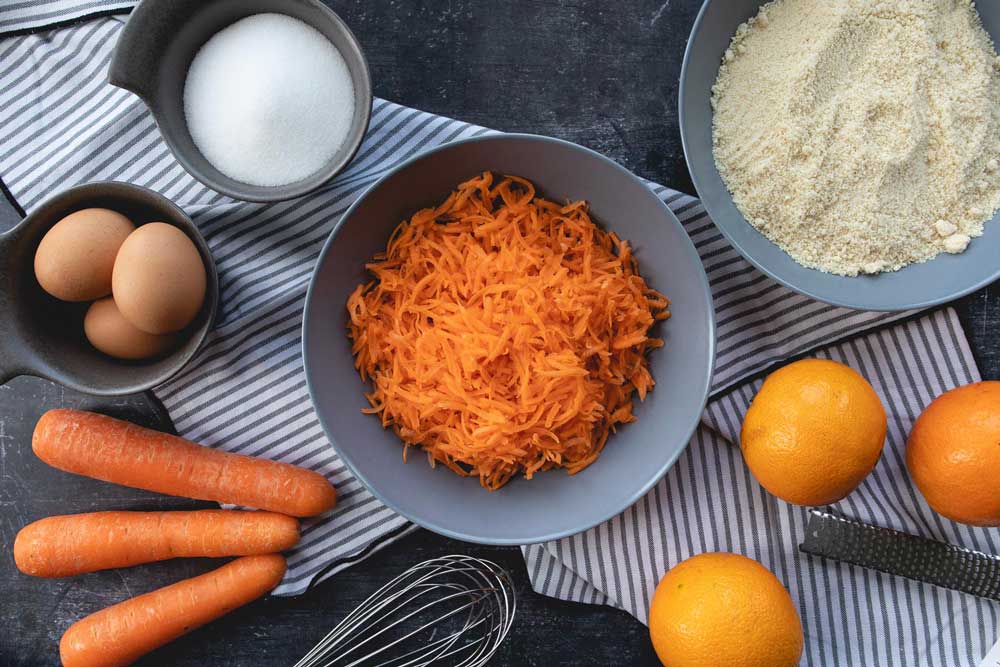 Preheat the oven:
Preheat the oven to 175°C (350°F).
Prepare the cake pan:
Grease an 8-inch (20cm) springform pan and line the bottom with parchment paper. This cake tends to stick, so I would recommend a non-stick springform pan if you have one.
Whip the egg yolks:
In the bowl of a stand mixer with the whisk attachment, or in a large bowl using a hand mixer, whip the egg yolks with half the sugar. The yolks will be pale yellow and should be thick and fall in a ribbon pattern when the whisk is lifted out.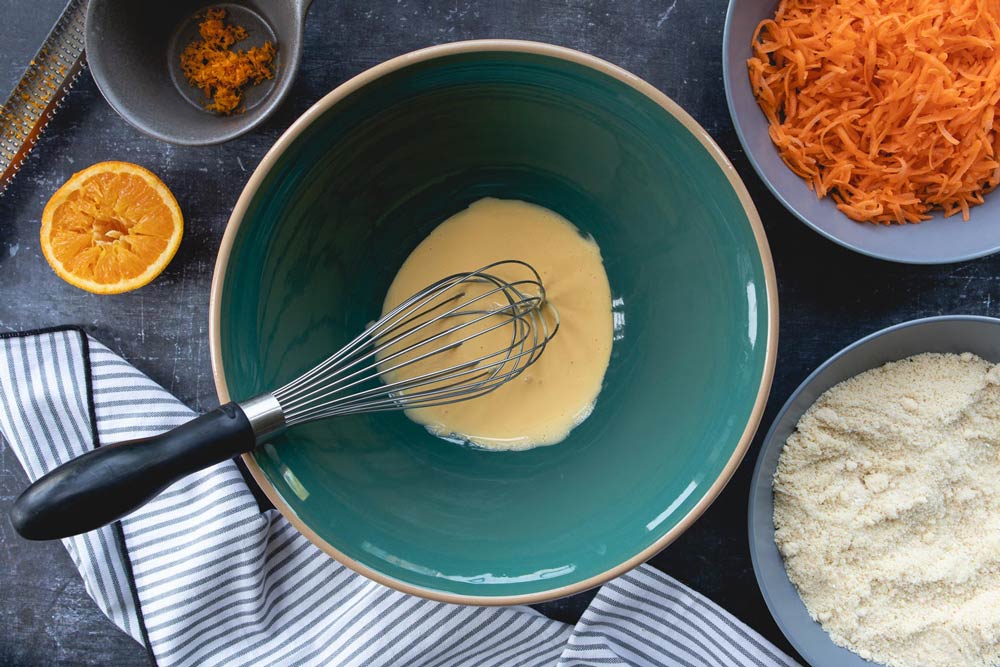 Fold in the remaining ingredients except for the sugar and egg whites:
Gently fold in the carrots, orange juice, vanilla extract, lemon zest, baking powder and salt. It will seem like the mixture is too dry, but once you add the beaten egg whites, it will resemble a cake batter.
Whip the egg whites:
In the bowl of a stand mixer fitted with the whisk attachment, or in a large bowl using a hand mixer, whip the egg whites to soft peaks while gradually adding the remaining sugar.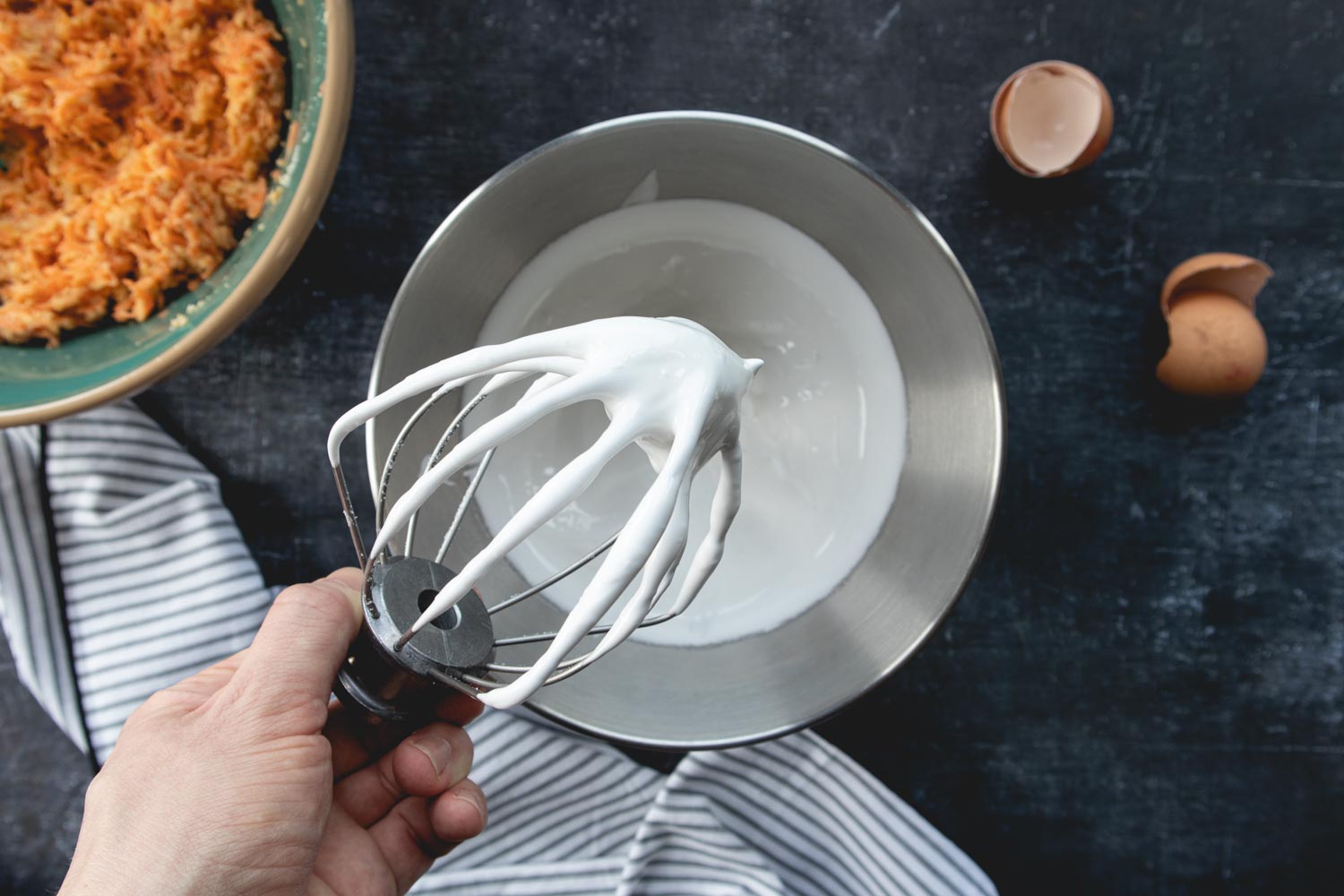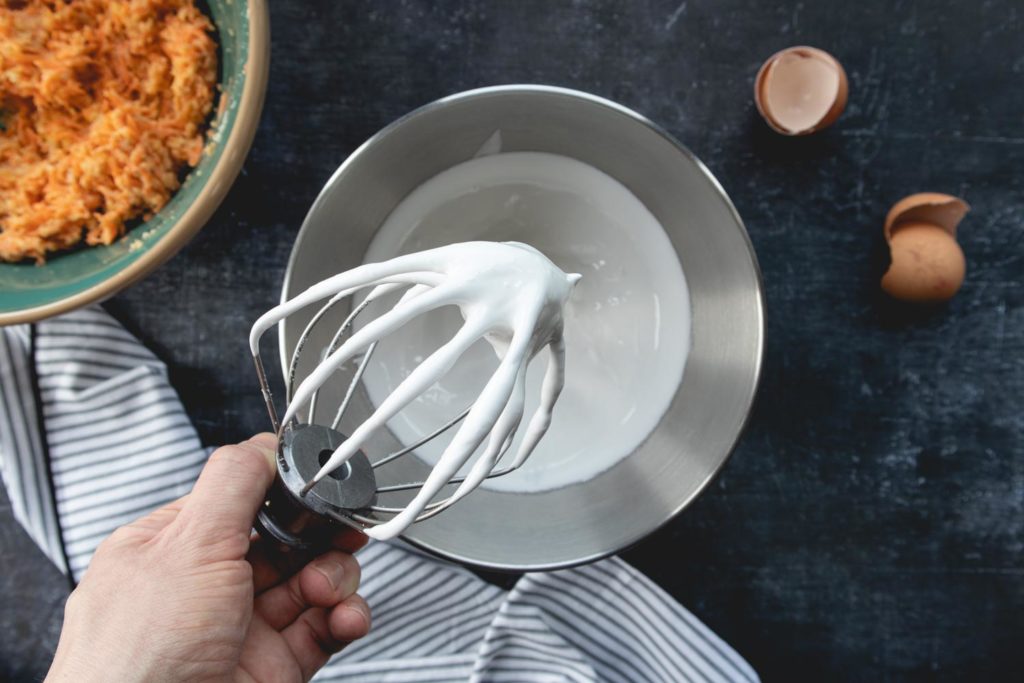 Combine the cake batter:
Carefully fold the beaten egg whites into the carrot mixture until just combined.
Bake:
Pour the batter into the prepared springform pan and bake at 175°C (350°F) for 30-35 minutes.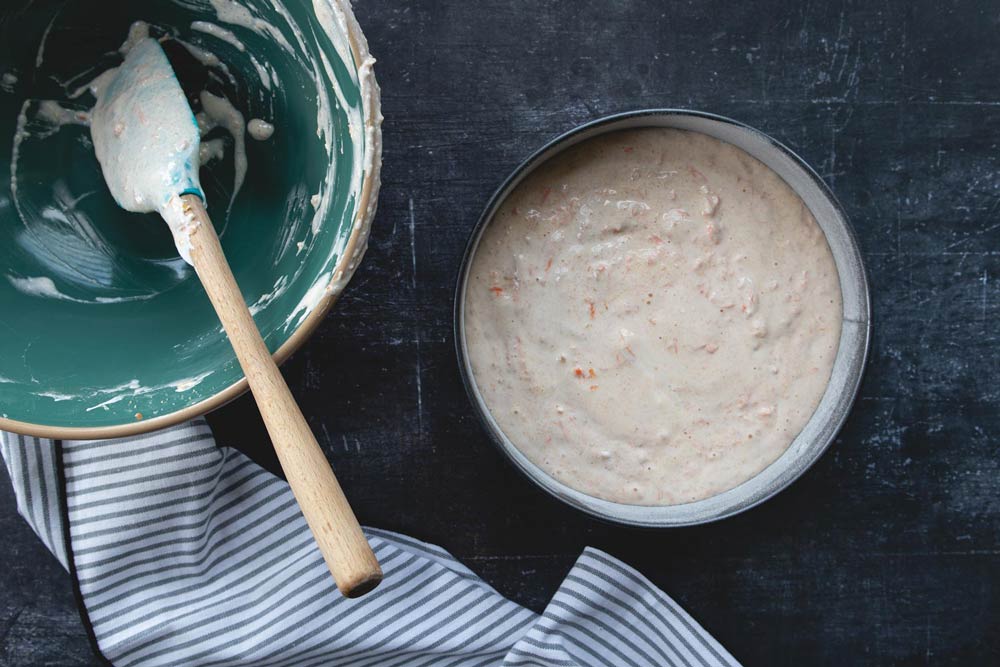 Let the cake cool for 10 to 15 minutes. Then, run a knife around the perimeter of the cake, release the spring and remove the cake to a wire cooling rack. Let the cake cool completely before glazing.
Make the glaze:
Sift the confectioners' sugar into a medium bowl. Pour in the orange juice and whisk to combine.
Glaze the cake:
Pour the glaze over the top of the cake and spread evenly.
Decorate the cake however you like: with toasted almond slices, candied citrus zest, marzipan carrots, candied carrot curls, or skip the glaze and serve it with a dusting of confectioners' sugar.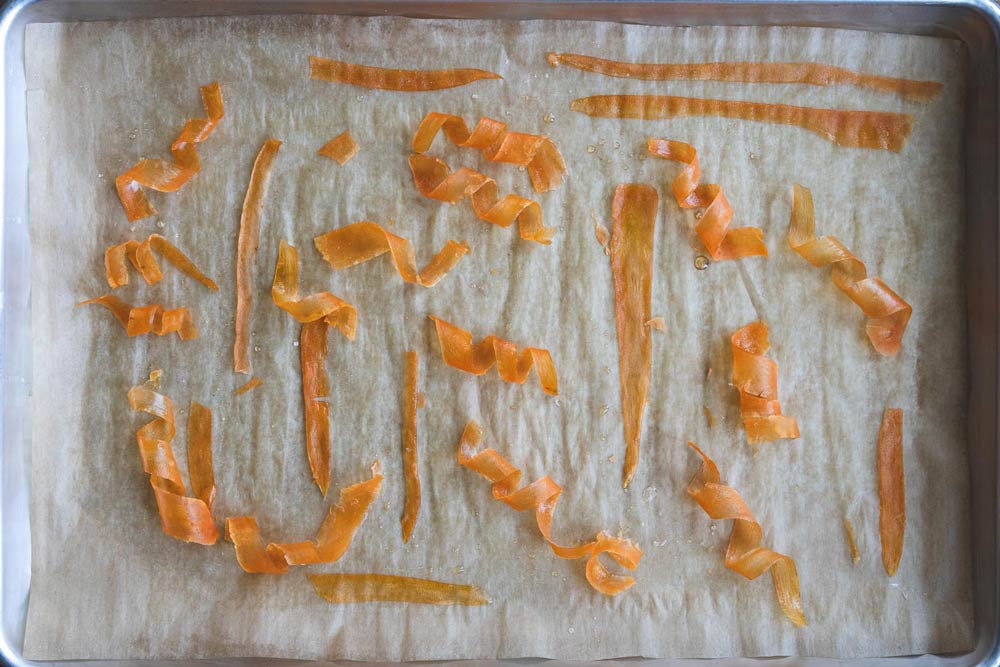 Special thanks to the World Carrot Museum, an exhaustive and quirky source for all things related to carrots.