Summer fruit is finally beginning to show up at the market. Every year it's like the fresh berries and stone fruit disappear just as quickly as they crop up. It always feels like you have to rush to take advantage of the abundance before it's suddenly gone.
Bublanina is the cake to make if you have an abundance of fresh summer fruit, but short on time. It's a rustic coffee cake that can be mixed in one bowl and is ready to share in less than an hour. Bublanina is a humble way to highlight summer fruit and an easy recipe for unexpected guests.
What is Bublanina?
Bublanina is a Czechoslovakian coffee cake dappled with fresh fruit. It's a versatile cake that varies with the available fruit and doesn't require any special equipment.
Bublanina gets its name from the Czech word bublina, which means "bubble," which describes how the batter bubbles up around the fruit as it bakes. Optionally, the cake is sprinkled with crumbly drobenka, or the Czech version of streusel.
The cake is a summer classic both in home kitchens as well as on the menus of Prague's notorious coffeehouses. Because it's not overly sweet, it's tempting any time of day, but it's particularly good for afternoon coffee.
Ingredients for Czech Coffee Cake
Bublanina is a simple, one-bowl coffee cake that you probably already have all the ingredients for.
Eggs – use a large egg, roughly 50g (1.75 oz) not including the shell.
Granulated Sugar – this recipe calls for 100g (1/2 cup) of sugar, but if you prefer it less sweet, you can reduce to 50g (1/4 cup) instead.
Vanilla Extract – Czech recipes for bublanina usually call for vanilla sugar, but that isn't easily available everywhere. Instead, I suggest using half a teaspoon of vanilla extract. If you are using vanilla sugar, omit the vanilla extract and reduce the sugar in the recipe by 2 teaspoons.
Milk – whole milk is best, but you can use reduced fat milk in a pinch.
Oil – use a neutral oil such as canola (rapeseed), safflower, sunflower, grape seed, or vegetable oil.
All-Purpose (Plain) Flour – Czech baking recipes often use polohrubá múka, or semi-coarse flour. Czech flours are categorized by coarseness, rather than protein strength. While not exactly the same, the best American or British approximation is all-purpose or plain flour.
Fruit – You can use almost any fruit you want for bublanina, the most common are stone fruits or berries, but you can also do a mix. Cut the fruit into bite-size pieces or slices. In the recipe I suggested about 250g or 8oz of fruit, but really, just measure by eye.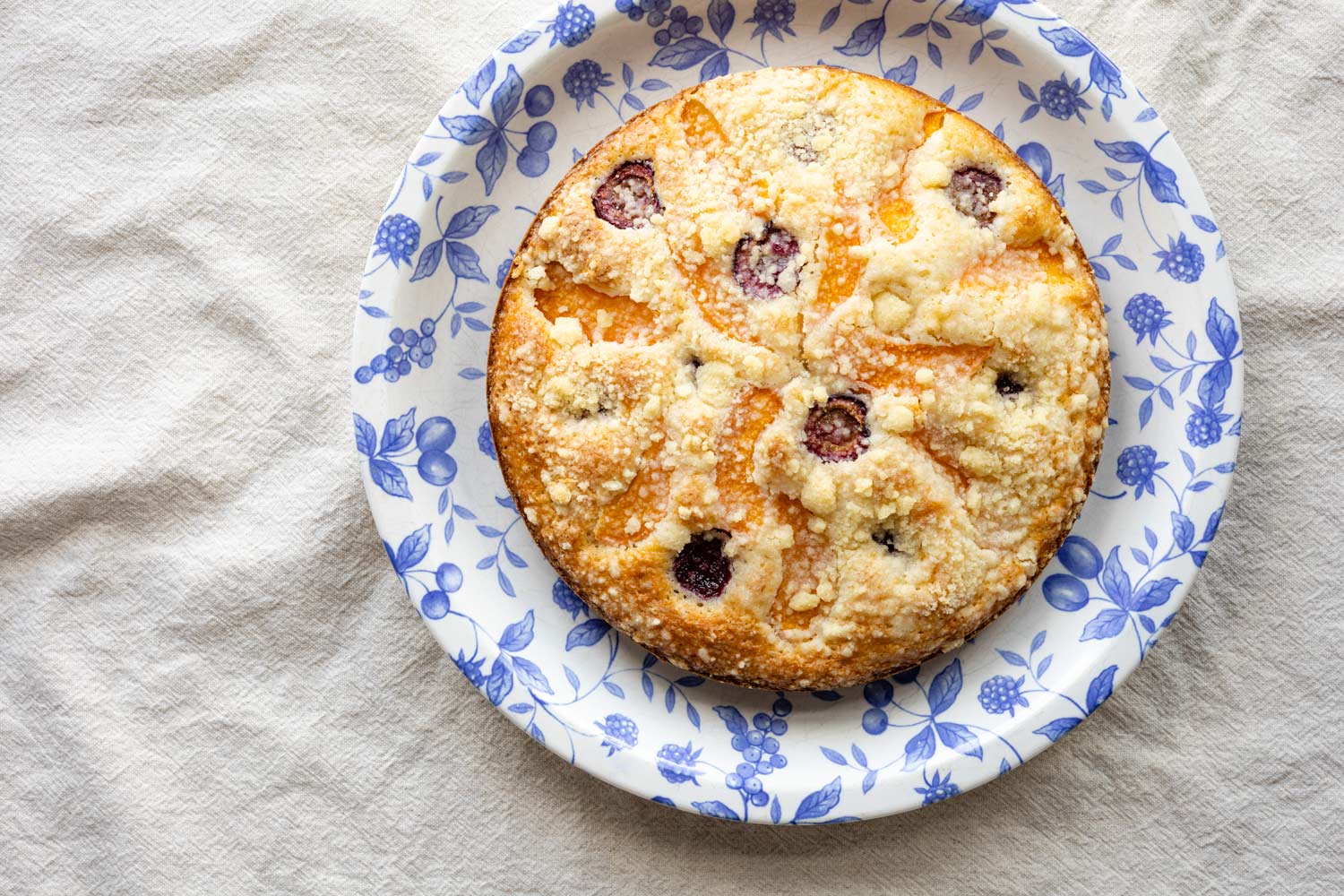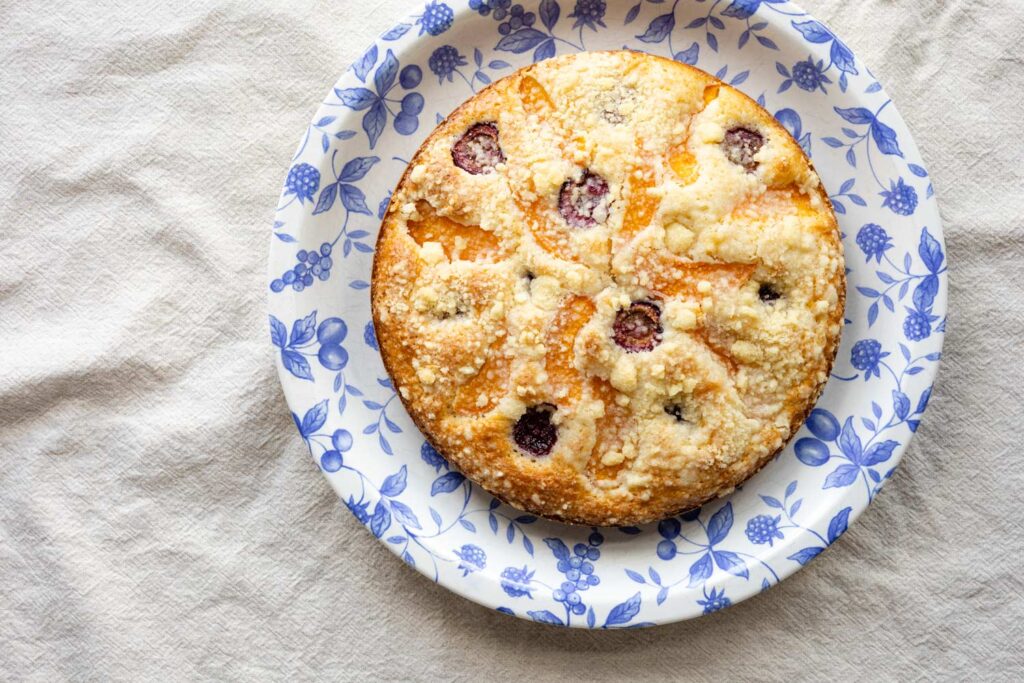 Tips for Making Bublanina
Don't let the batter sit for too long before baking. Prep the fruit and the streusel before making the cake batter to reduce the amount of time the batter sits before baking.
If you have some time before baking, use room temperature eggs and milk. But since there's no butter in this recipe, you don't have to worry as much about temperature differences.
Drobenka is the Czech version of streusel. When preparing streusel, make sure the butter is cold and cut it into small pieces. Then use a fork, your fingertips, or a pastry blender to cut it into the flour and sugar. The mixture should be crumbly and resemble coarse meal. You do not want to make a cohesive dough.
Variations on Bublanina
Czechoslovakian bublanina is incredibly versatile. The very nature of bublanina is to make use of the fresh fruit you have available to you, so it varies with what fruit is in season.
Use orange zest in place of the lemon zest.
Swap a 1/4 teaspoon of almond extract in for the vanilla extract.
Try using different fruit. The most commonly used are stone fruits such as cherries and apricots, plums, peaches, and nectarines. You could also use berries like strawberries, raspberries, or blueberries. Or combine a couple different kinds of fruit. In the off season, you could even use frozen fruit.
Double the recipe and bake it in an 11×17 inch (28x18cm) or a 9-inch (23cm) square pan. The cake will take longer to bake, but begin to check it after 30 minutes.
Skip the drobenka crumble topping and instead dust the baked and cooled cake with confectioners' sugar.
How to Serve Bublanina
Bublanina pairs especially well with coffee. Serve a slice alongside a cup of coffee or tea after lunch, or even for breakfast. If you have some extra fruit, serve it on the side.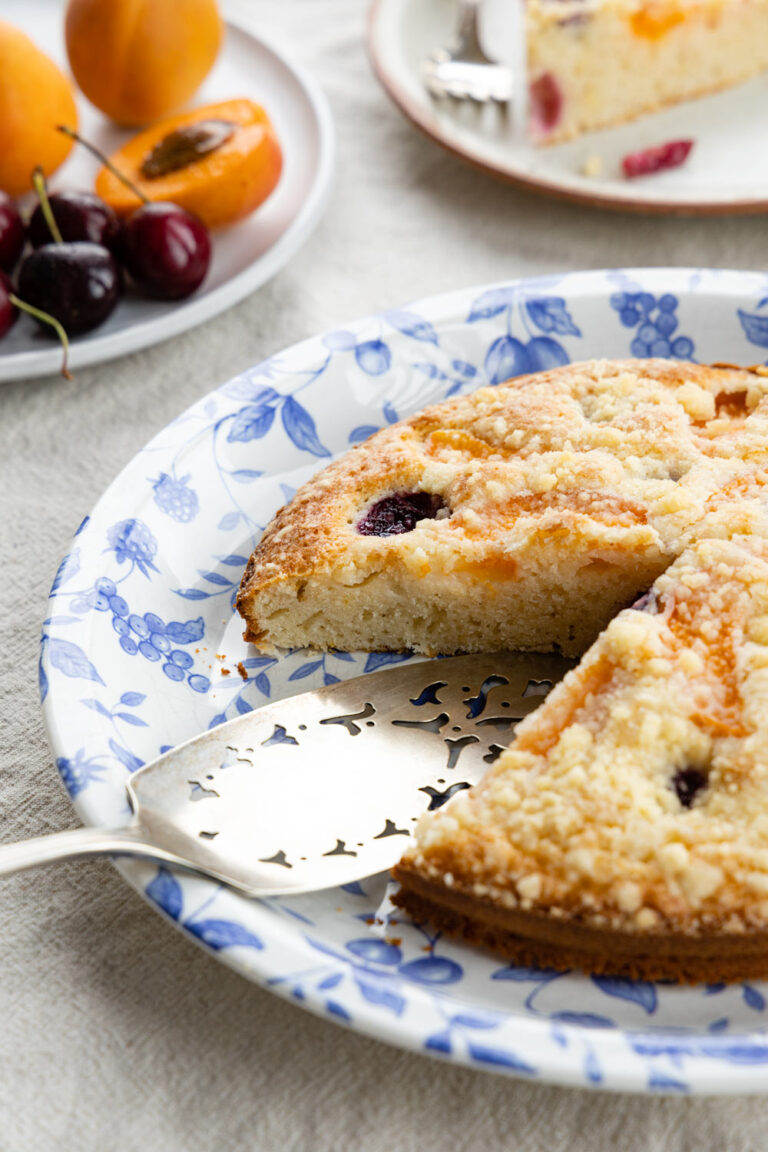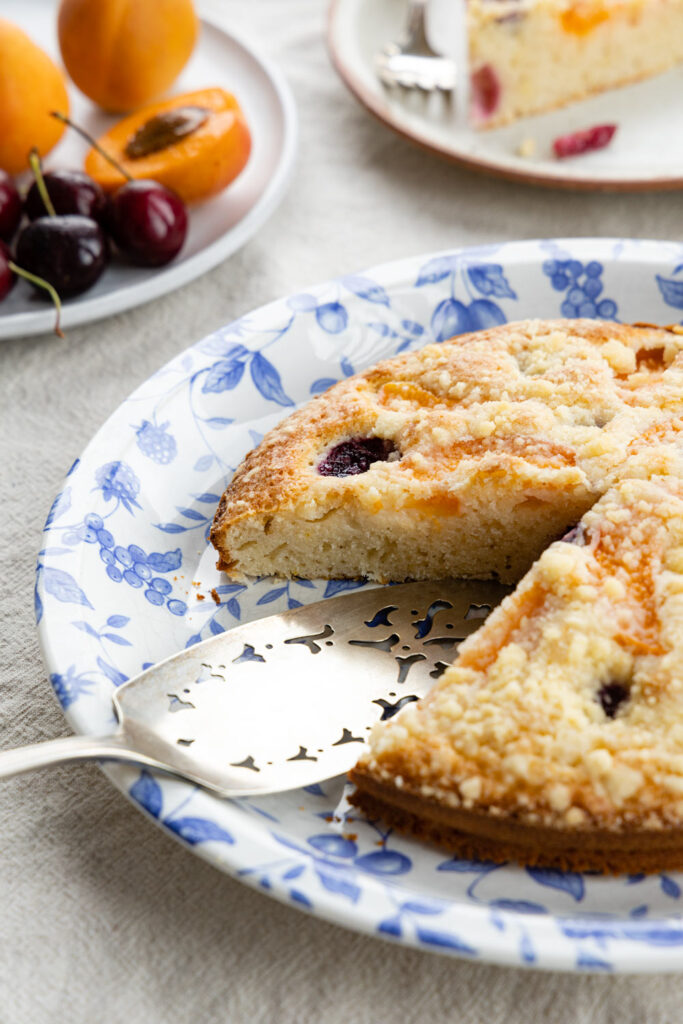 Ingredients:
Yield: One 8-inch round cake
FOR THE CAKE:
1 large egg
100g sugar
1/2 teaspoon vanilla extract
Zest of half a lemon (1/2 teaspoon)

120ml whole milk
60ml vegetable oil

120g plain flour
3/4 teaspoon baking powder
1/8 teaspoon salt

250g fruit, such as pitted cherries, sliced stone fruit, or berries

DROBENKA CRUMB TOPPING (OPTIONAL):
30g flour
15g sugar
15g unsalted butter, cold and cut into small pieces
FOR THE CAKE:
1 large egg
1/2 cup sugar
1/2 teaspoon vanilla extract
Zest of half a lemon (1/2 teaspoon)

1/2 cup whole milk
1/4 cup vegetable oil

1 cup all-purpose flour
3/4 teaspoon baking powder
1/8 teaspoon salt

1/2 lb fruit, such as pitted cherries, sliced stone fruit, or berries

DROBENKA CRUMB TOPPING (OPTIONAL):
1/4 cup all-purpose flour
1 1/2 tablespoons sugar
1 tablespoon unsalted butter, cold and cut into small pieces
1. Preheat the oven:
Adjust the oven rack to the middle position and preheat the oven to 175°C (350°F).
2. Prepare the pan:
Line an 8-inch (20cm) round cake pan with parchment paper, grease the pan and parchment with butter and dust with flour. Tap out the excess flour and set aside.
3. Make the drobenka crumb topping (optional):
In a small bowl whisk together the flour and sugar. Then, use a fork to cut the butter into the four mixture until it looks crumbly. You don't want a cohesive dough.
4. Whisk together the egg and sugar:
Whisk together the egg, sugar, vanilla, and lemon zest in a mixing bowl.
5. Add the oil and milk:
Add the oil and milk and whisk to combine.
6. Fold in the flour:
Use a rubber spatula to gently fold in the flour, baking powder, and salt until just combined.
7. Add the toppings:
Pour the batter into the prepared pan. Top with the fruit, pitted or cut into slices, depending on what you're using. Scatter the drobenka over the top of the cake, if using.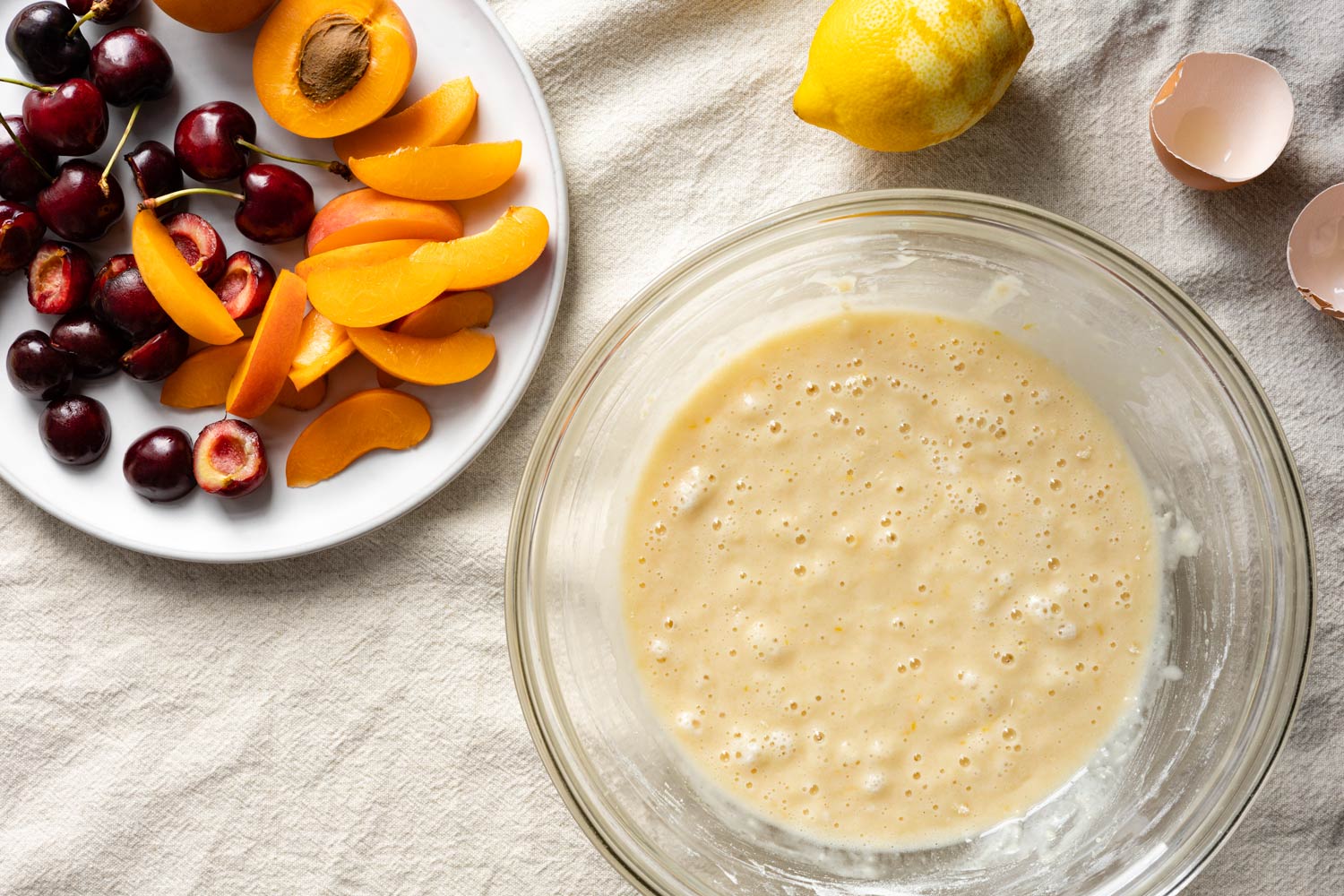 8. Bake:
Bake in the preheated oven at for 30 minutes, or until a skewer inserted in the center of the cake comes out clean.
Storage Instructions
The cake will keep, tightly covered, for up to 4 days.