I've been to Florence at least three times, and each time I return I like it more than the previous trip. As one of the most touristic cities in Italy, it can sometimes be difficult to filter out the tourist spots and find a more authentic experience. Each time I return, I go with a list of recommendations from friends and try to wander further from the main streets.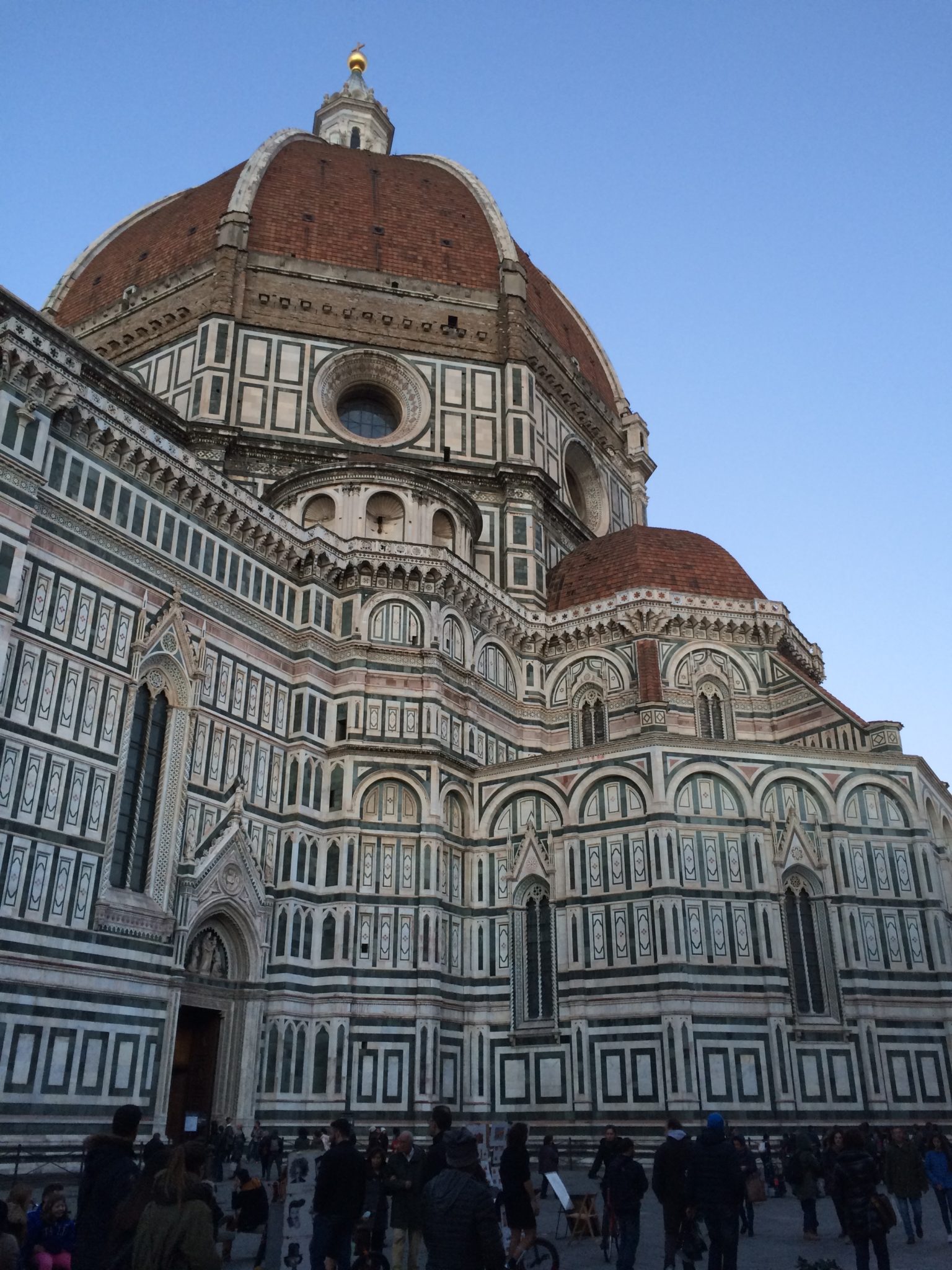 Not surprisingly, my favorite thing to do while traveling is not so different from my favorite thing to do at home: eat pastries and drink coffee. One of my favorite things about Italy is that it's perfectly acceptable to eat sweets for breakfast. La colazione all'italiana is easy: find a bar, order a cappuccino or caffè latte, and eat something sweet.
Even when I'm not in Italy, it's quite a treat to sneak a slice of cake for breakfast on a sunny morning alongside some espresso. This Italian olive oil cake has a crisp, golden crust and a rich and tender crumb. Olive oil lends a fruity and herbaceous flavor and I love serving fresh fruit along with it. This time, I've paired it with macerated strawberries flavored with some balsamic vinegar. Altogether it's a summery dessert with the sweet-tart balsamic strawberries and the zesty and fragrant cake.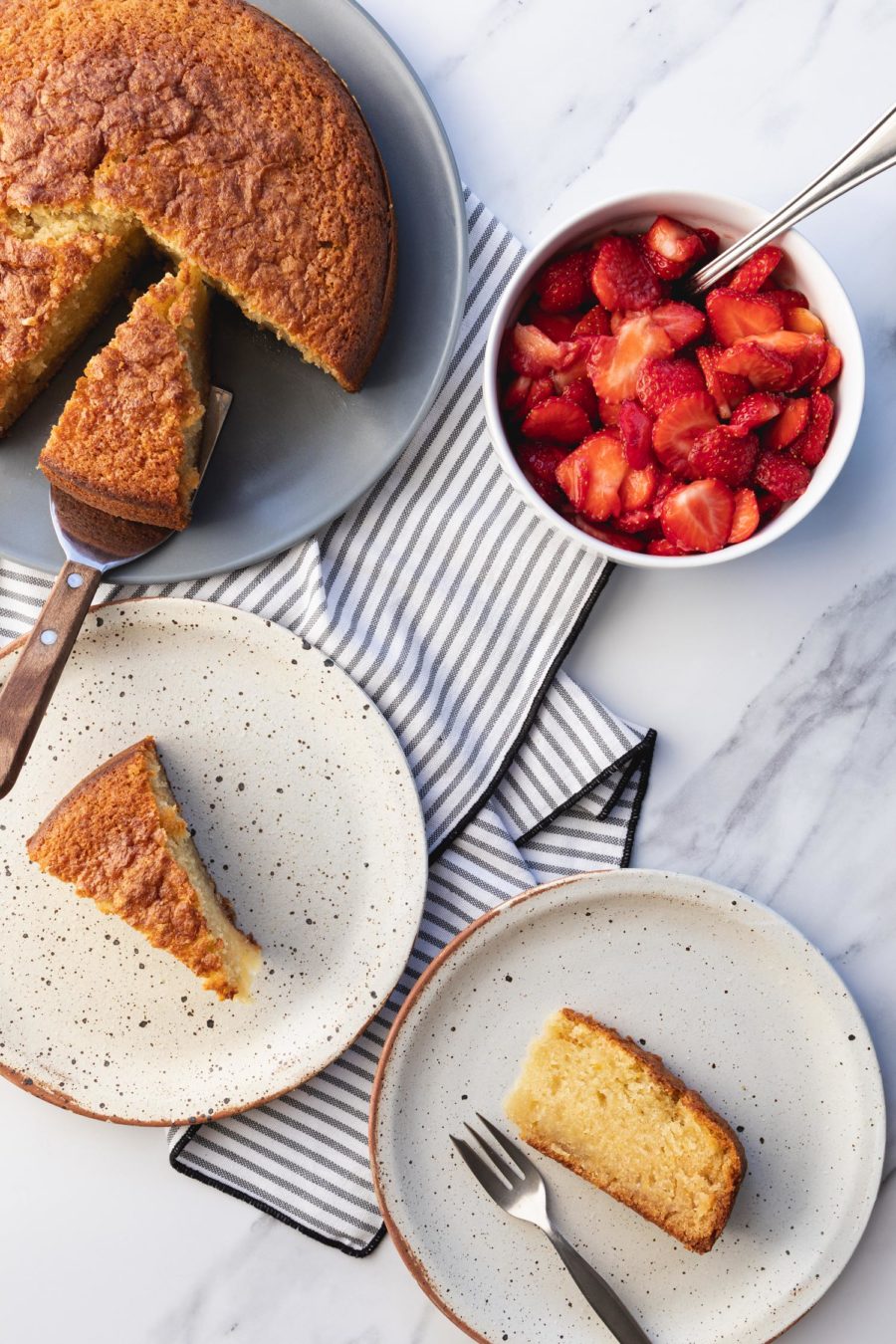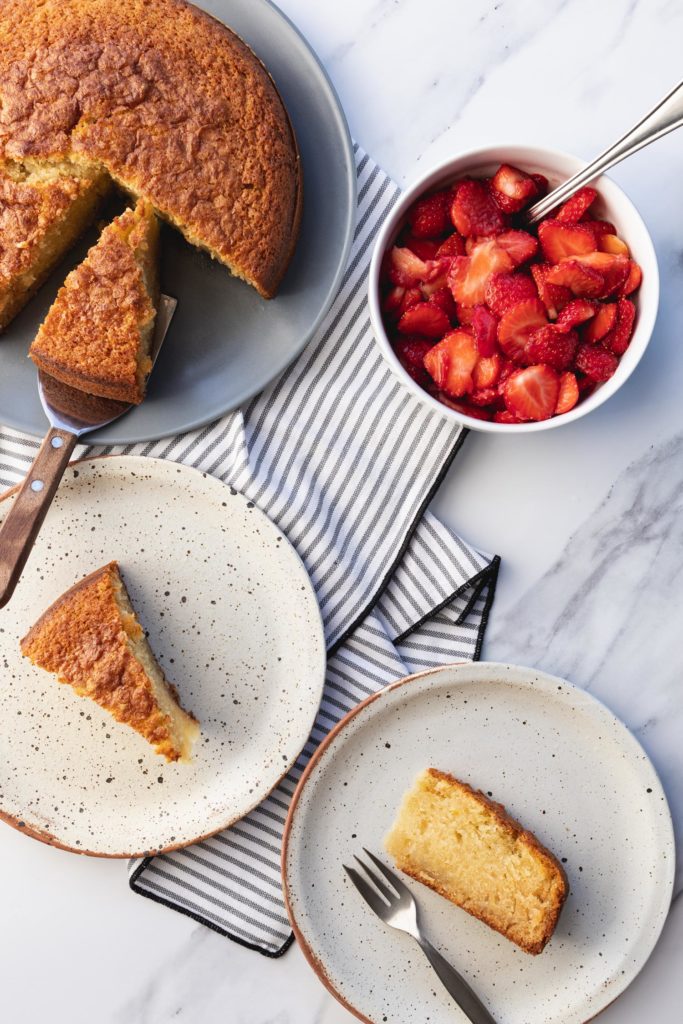 Use extra virgin olive oil for this cake. The better the olive oil you use, the better flavor the cake will have. Extra virgin olive oil is more flavorful than virgin or regular olive oil because it is unrefined, meaning it's not chemical- or temperature treated. Good extra virgin olive oil for baking should be buttery and fruity. While olive oil can sometimes have a bit of bitterness, don't be put off by it. Think of other common baking ingredients that are bitter: chocolate, coffee, matcha.
Tips for Baking Olive Oil Cake
For an authentic cake, I'd use an Italian olive oil, especially those from Tuscany, which tend to be buttery and mild. I always have a stock of Spanish olive oils from trips or visits from friends, so my go-to is made from Arbequina, which is fruity and piquant. But use whatever you prefer. As long as it's good enough as a finishing oil or for dipping bread, it's good enough for cake.
This is a simple olive oil cake recipe that can be made in one bowl and does not require a stand mixer. If you have some time before baking, use room temperature eggs and milk. But since there's no butter in this recipe, you don't have to worry as much about temperature differences. Because of the olive oil and milk, the batter might seem too liquid, but it will bake into a beautifully tender cake. While I've flavored this olive oil cake with lemon zest, you could substitute the same amount of orange zest.
Make sure you use a deep cake pan, ideally with 2 or 3-inch sides. Otherwise, split the batter between two shallow 8-inch cake pans and check the cake for doneness after 30 minutes. You could also use an 8-inch square pan if you don't have a round one.
Because of the moisture, olive oil cake lasts for several days on the counter if it's tightly wrapped. The longer the balsamic strawberries are left to macerate, the softer they become, so they're best eaten the same day.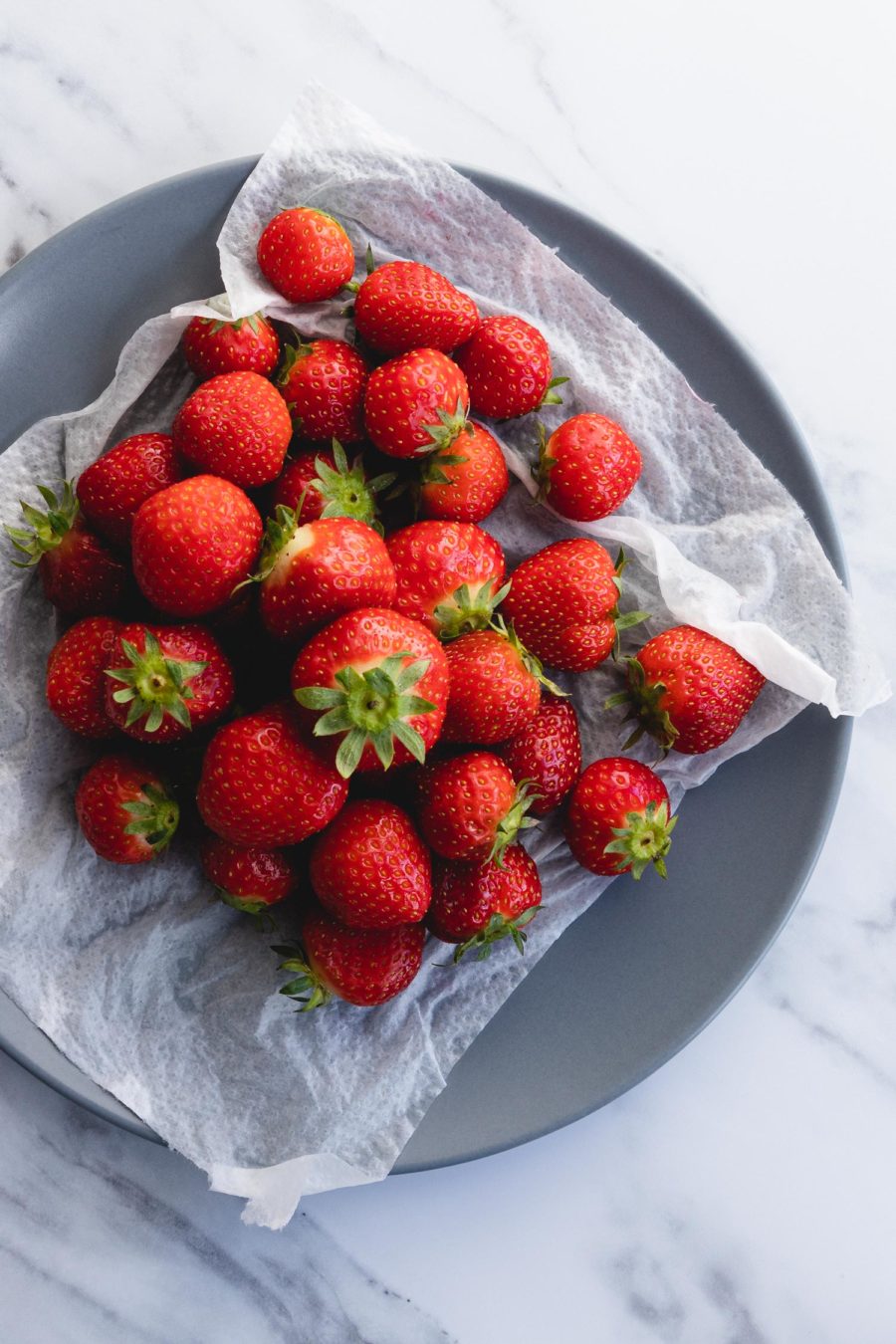 Ingredients:
Yields 1 8-inch cake.
Italian Olive Oil Cake
200g plain flour
1/2 teaspoon baking powder
1/2 teaspoon baking soda
1/4 teaspoon salt

2 large eggs
250g granulated sugar
300ml whole milk (305g)
300ml extra virgin olive oil (268g)

2 Tablespoons lemon zest
1 2/3 cups flour
1/2 teaspoon baking powder
1/2 teaspoon baking soda
1/4 teaspoon salt

2 large eggs
1 1/4 cups granulated sugar
1 1/4 cups whole milk
1 1/4 cups extra virgin olive oil

2 Tablespoons lemon zest
Balsamic Macerated Strawberries
450g strawberries, sliced
1 1/2 teaspoons granulated sugar
1 teaspoon balsamic vinegar
1 lb strawberries, sliced
1 1/2 teaspoons granulated sugar
1 teaspoon balsamic vinegar
Preheat the oven:
Adjust the oven rack to the middle position and preheat the oven to 175°C (350°F).
Prepare the pan:
Line a 8-inch (20cm) cake pan that is at least 2 inches deep with parchment paper, grease the pan and parchment with butter and dust with flour. Tap out the excess flour and set aside.
Sift together the dry ingredients:
In a medium bowl, whisk together the flour, baking powder, baking soda and salt.
Mix the wet ingredients:
In a large bowl, combine the eggs, sugar milk and olive oil with a whisk.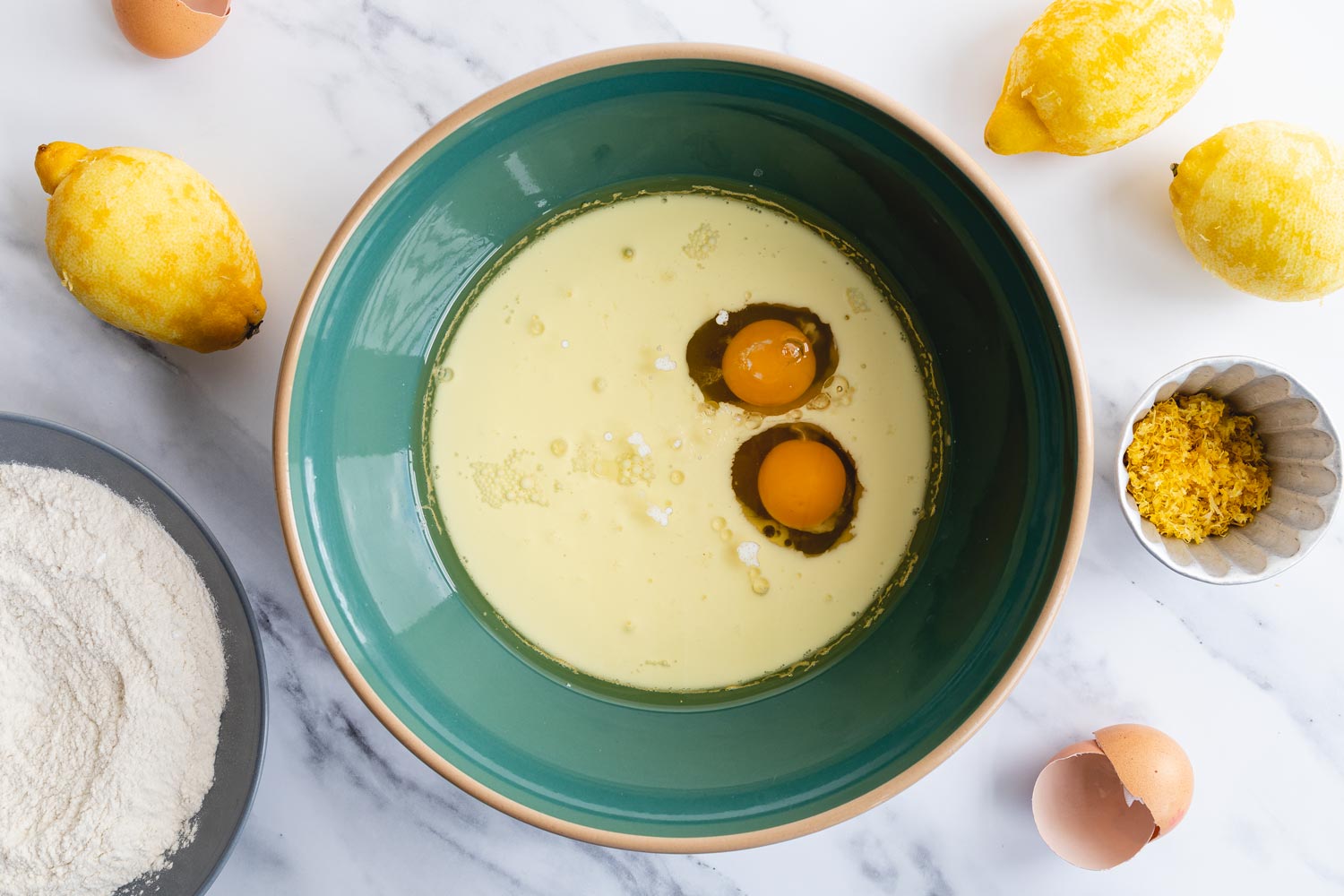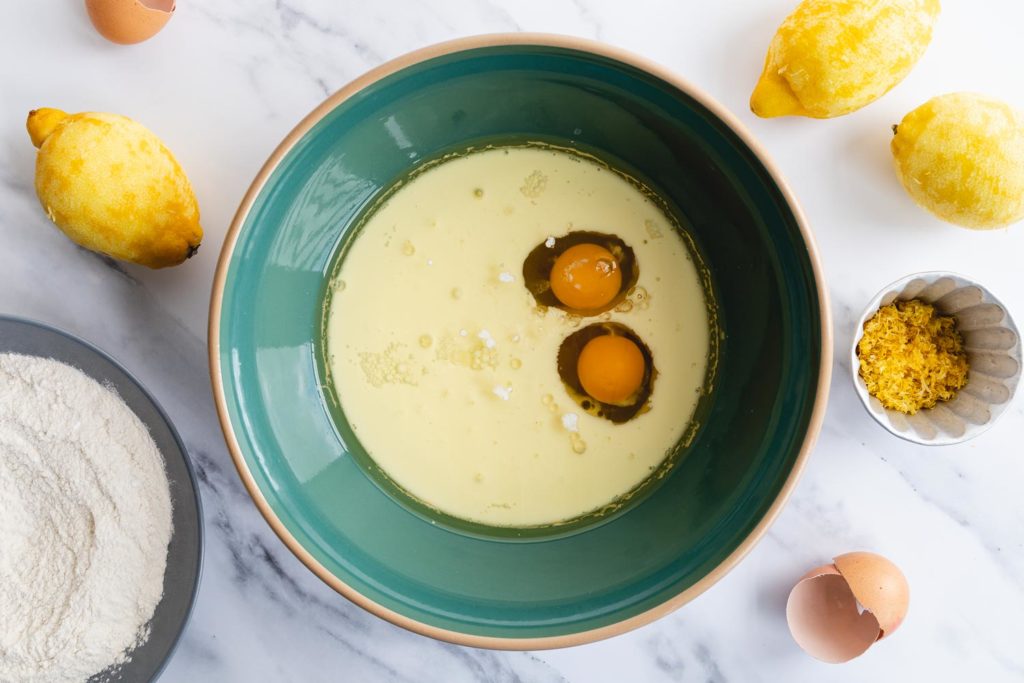 Fold in the dry ingredients:
Using a large rubber spatula, gently fold the dry ingredients into the olive oil mixture until just combined. Stir in the lemon zest.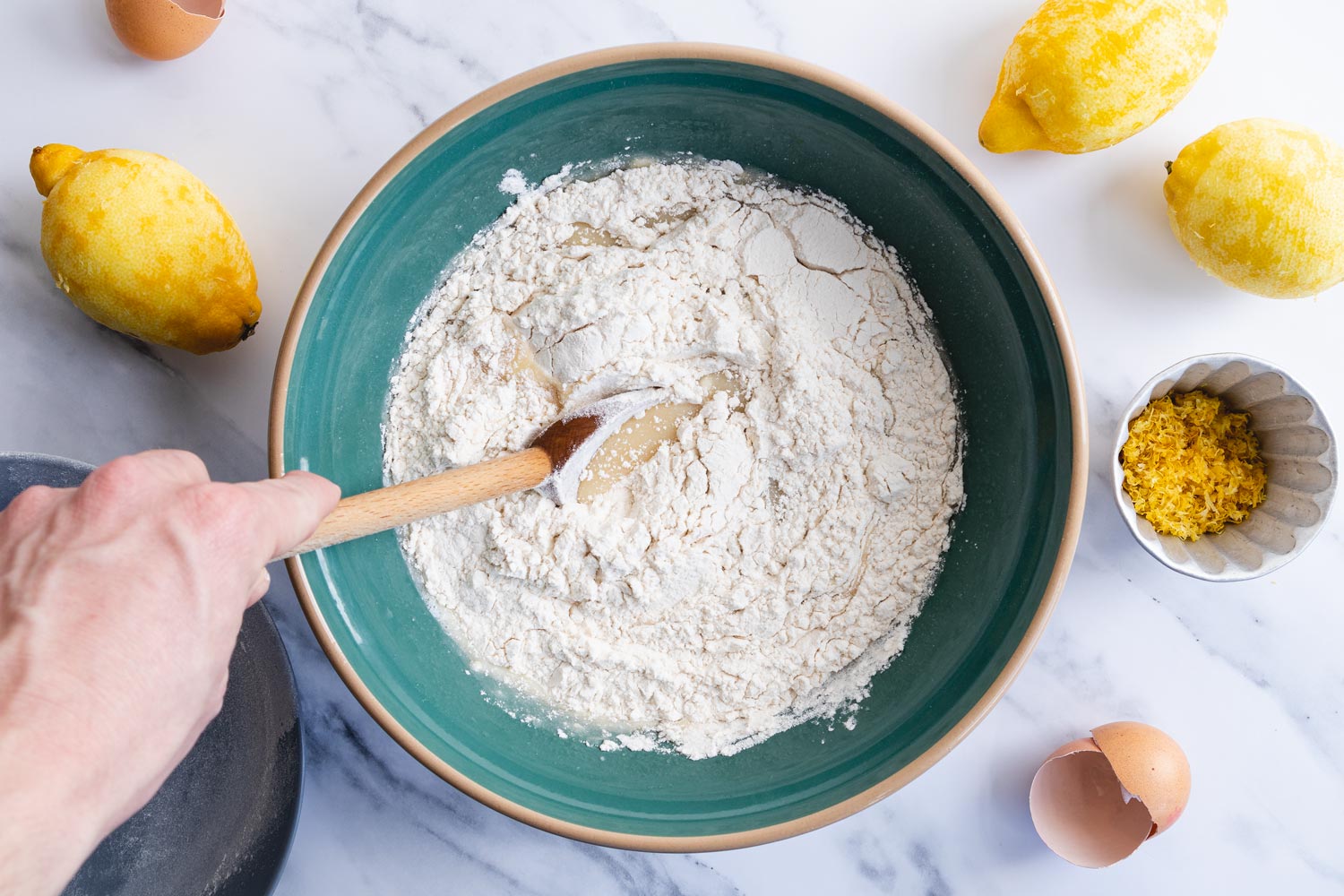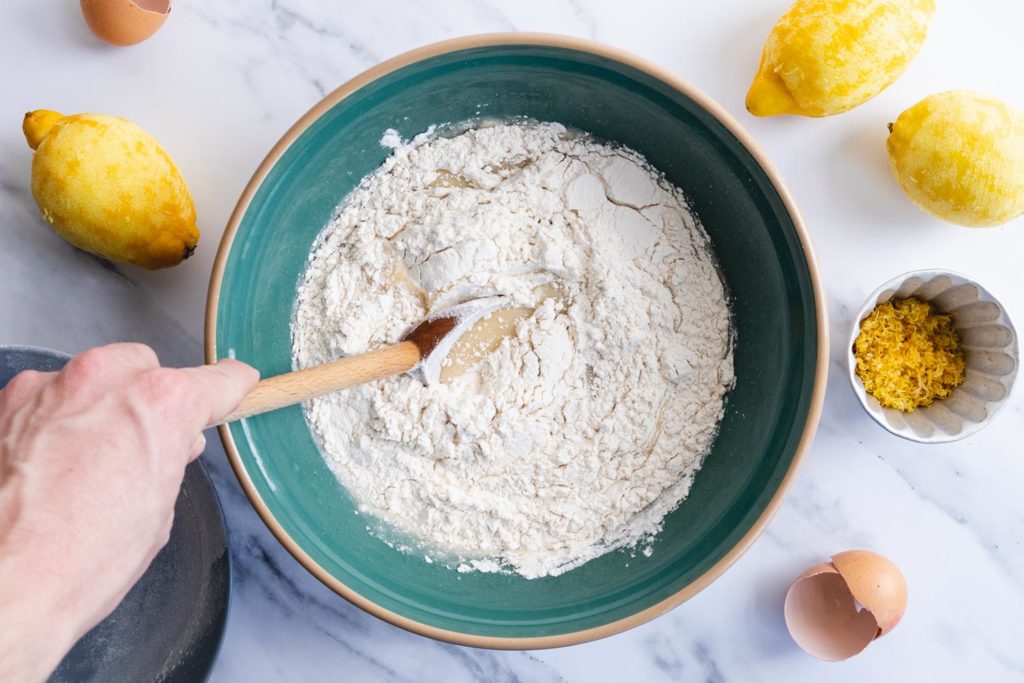 Bake the cake:
Pour the batter into the prepared pan and bake in the oven at 175°C (350°F) for about 50 minutes. The cake is done when the top is golden, the sides begin to pull away from the pan, and a cake tester comes out clean.
Cool:
Let the cake cool in the pan for 30 minutes. Run a knife around the edge of the cake and invert it onto a rack. Let it cool completely before slicing and serving.
Prepare the balsamic macerated strawberries: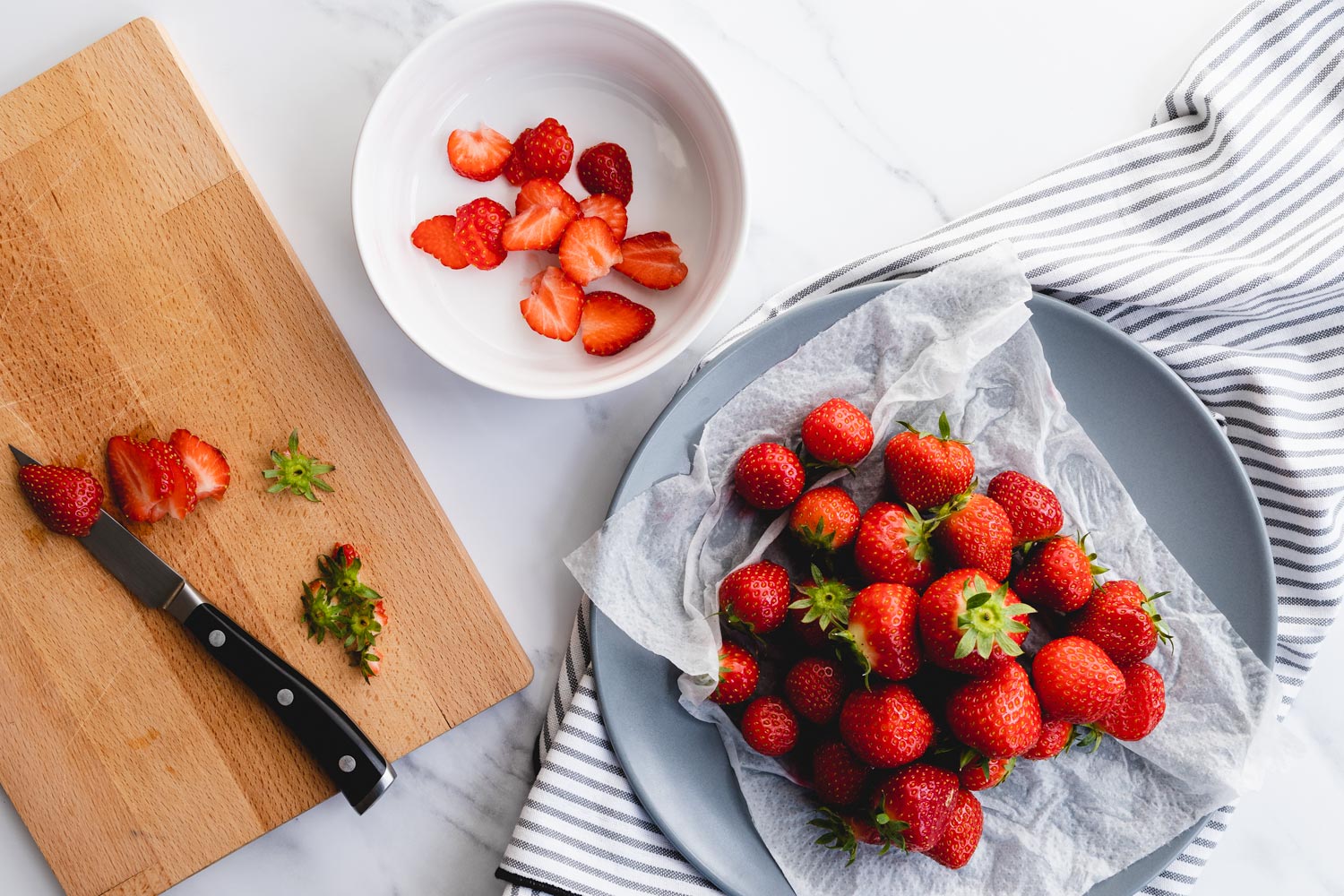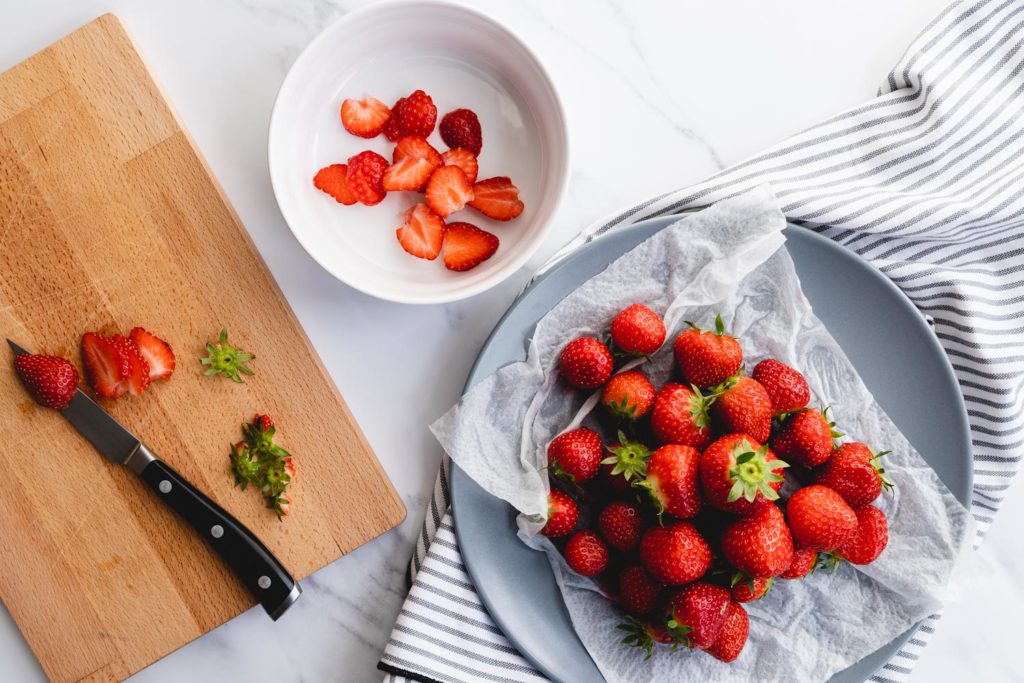 30 minutes to an hour and a half before serving the cake, prepare the macerated strawberries. In a medium bowl, stir together the sliced strawberries, sugar and balsamic vinegar. Cover and let the strawberries macerate for 30-90 minutes. Don't leave them much longer than this or the strawberries will get too soft.