Some links may be affiliate links. We may get paid if you buy something or take an action after clicking one of these.
These French macarons are flavored with slightly bitter almond and filled with a rich dark chocolate ganache. They have a crisp exterior that shatters into a soft, chewy interior. While macarons are usually a tea-side treat, the chocolate almond flavor begs for a cup of coffee.
French macarons may not exactly fall within the category of rustic European baking, but these delicate confections are so sought after, they deserve a feature and copious baking tips. Let's be honest, not everyone visiting Paris can nonchalantly embrace the French word flâner, they're often on the prowl for Ladurée and Pierre Hermé.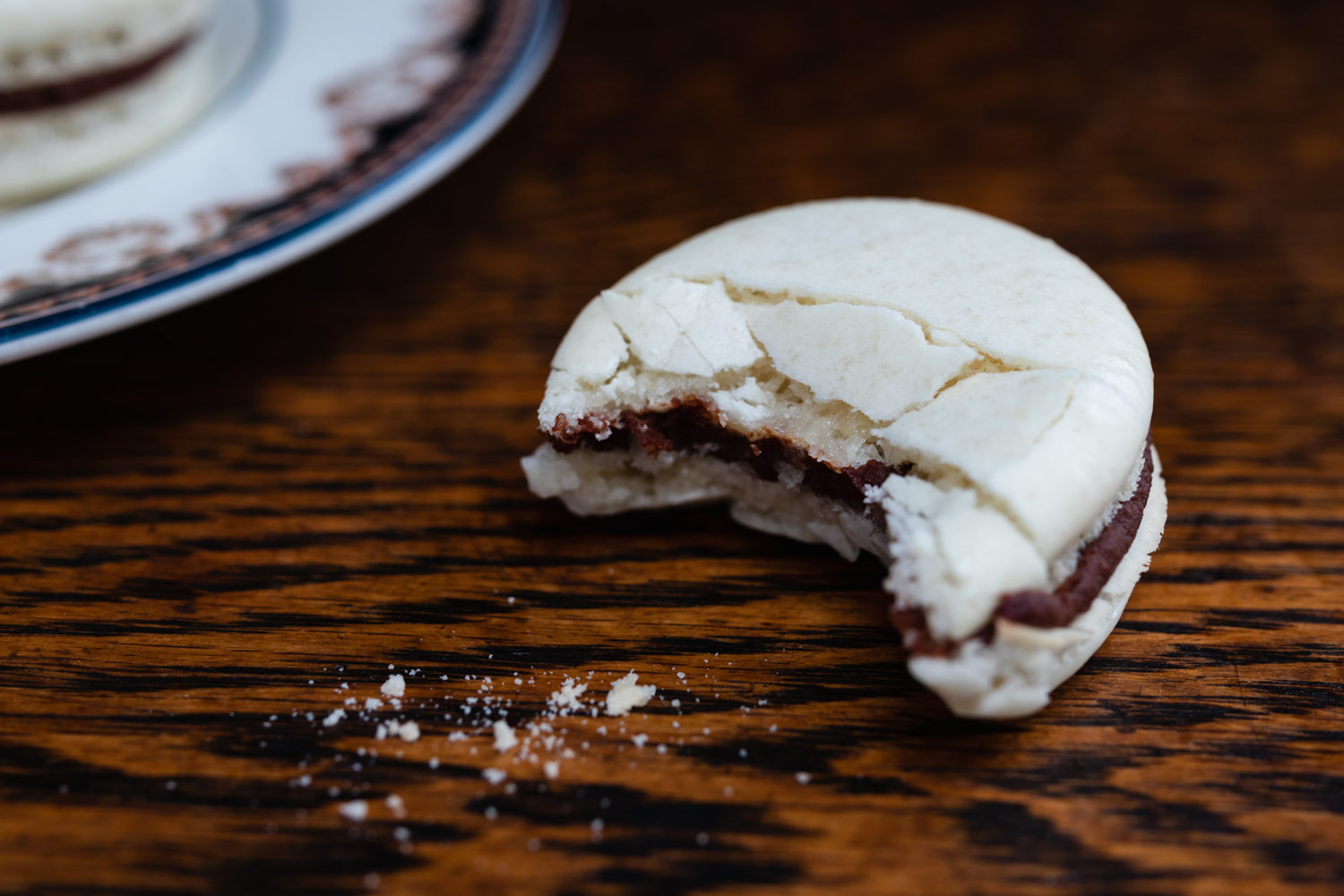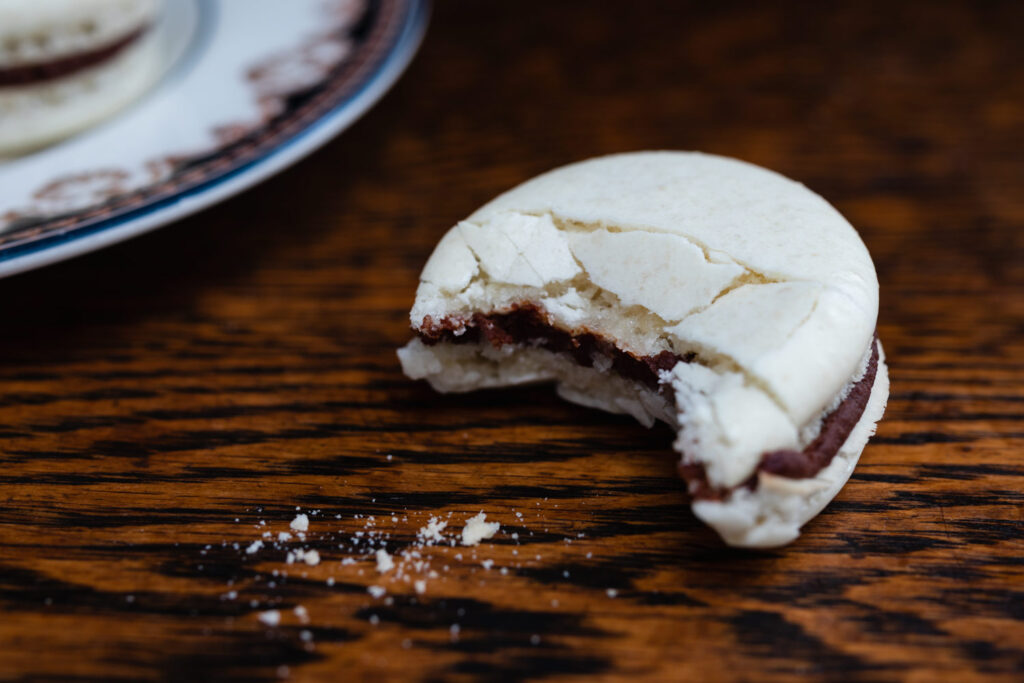 How to Make Macarons
Macarons are made by folding almond flour and confectioners' sugar into meringue. They are piped, left to air dry, and then baked. They come in infinite flavors, colors, and fillings.
There are two main methods for the meringue used in macarons: a French meringue or an Italian meringue. In a French meringue, sugar is added directly to the egg whites as they are whipping. In an Italian meringue, a hot sugar syrup is whisked into the beaten egg whites. The French method is easier and more straight-forward to make, but the Italian method is more stable. This recipe uses a French meringue, even though it's less stable, because it's easier to prepare and not as sweet than the Italian method.
After folding the almond flour and confectioners' sugar into the meringue, the batter needs to be mixed longer to deflate some of the air. The ideal consistency allows for the macarons to be piped but without spreading too thin. This process of folding and deflating the meringue is called macaronage.
Once the macarons are piped, they need to rest at room temperature to dry and form a skin. This skin is what creates the smooth, crisp shell once baked.
Macarons bake at a low temperature just long enough to crisp the exterior and set the meringue. They should not color, but they shouldn't be soft or sticky either.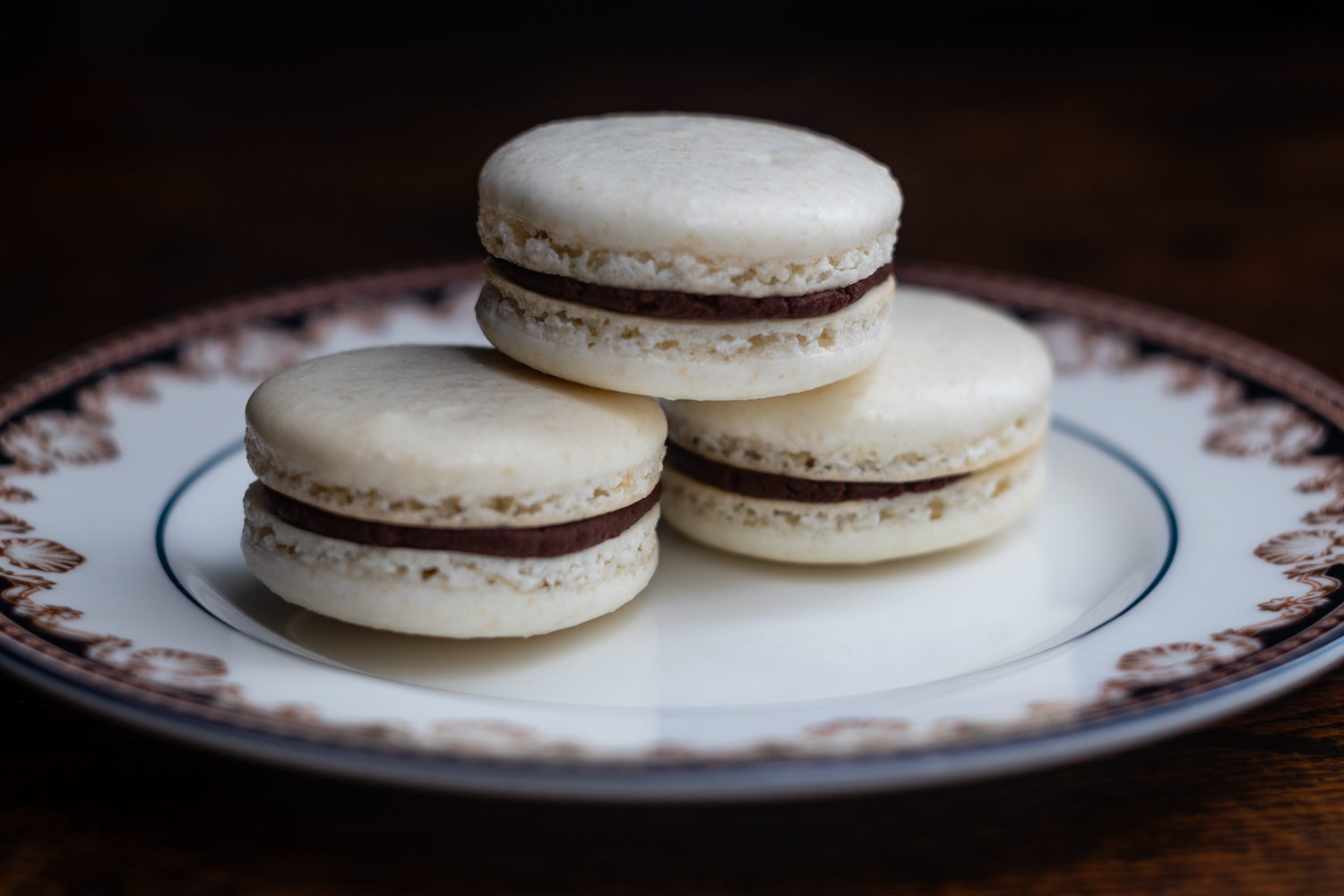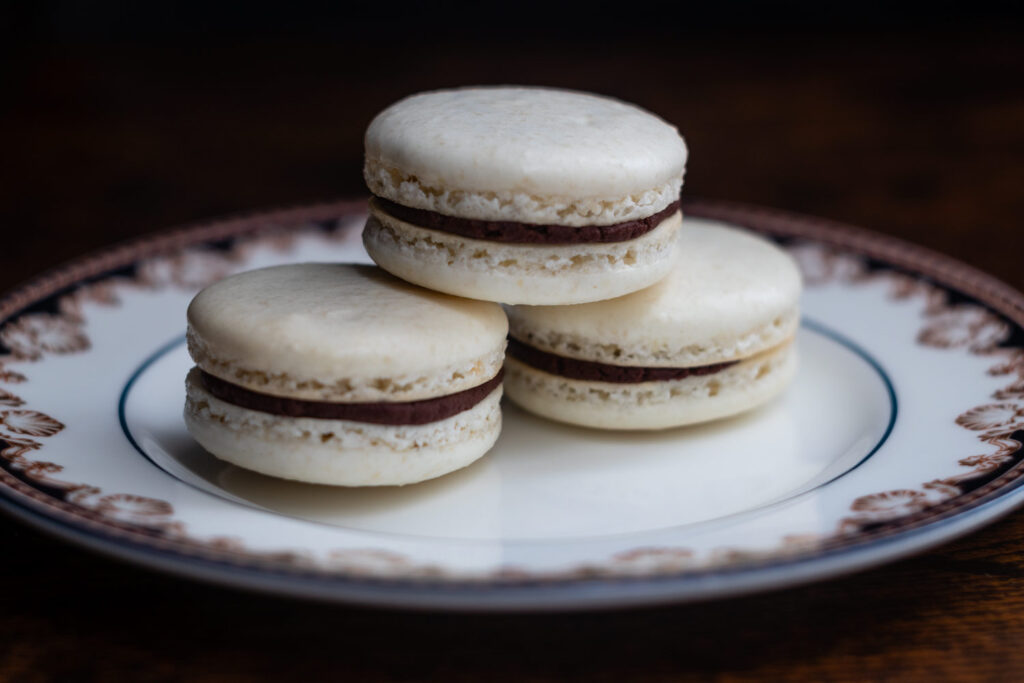 Essential Tips for Making Macarons
Make sure to use blanched almond flour for the macarons, not almond meal. Almond meal is usually ground less finely and can include the skins. And if you can find it, use super-fine almond flour. The finer the almond flour, the smoother the macarons will be.
If you can't find super-fine almond flour, you can process the almond flour with the confectioners' sugar in a food processor to grind it finer.
These French macarons start with a French meringue. Many recipes use Swiss or Italian meringues, but I've had good results with this method and it's the simplest. In a French meringue, sugar is gradually added directly to the whipping egg whites. While it's not as stable as other types of meringue, it's tender, light, and fragile, and tends to work well for cookies.
The trickiest part of making macarons is getting to the right consistency after mixing in the almond flour. While I can give descriptions for the ideal consistency, unfortunately it might take practice and trial and error to get it perfect.
Undermixing results in a batter that is too thick and the macarons will have peaks on them. Overmixing results in a runny batter that won't hold