Some links may be affiliate links. We may get paid if you buy something or take an action after clicking one of these.
Apple cake is a very popular recipe all across Europe: French gateau aux pommes moelleux, German Apfelkuchen, Danish aeblekage, etc. You'll find that almost every country has its own version of apple cake, and indeed each region.
When apples are in season, I usually prefer the Italian version. Apfelkuchen tends to be a bit drier, whereas the Italian version is tender and light.
I love baking spices, especially in autumn and winter. But when you can get fresh in-season apples, you should really celebrate them. Torta di mele is a simple, moist cake that focuses almost entirely on the apples, only adding a bit of lemon zest.
Torta di mele is a classic homemade Italian cake that you can serve as a merenda alongside a strong cup of coffee or even for a sweet breakfast.
Tips for Making Torta di Mele
The most important bit of advice I can give for this recipe is to use room temperature ingredients. This cake batter will not work if your ingredients are at different temperatures. If the eggs or milk are cold, the batter will fall out of emulsion and seize.
This cake is very tender and delicate. Use a springform pan to ensure you can release the cake from the pan without breaking it.
This is a thick cake, be sure to use a deep pan that's at least 2-inches (5cm) deep. Alternatively, you could bake it in a 10-inch (25cm) springform pan, but check the cake after about 45 minutes.
You can use whatever type of apple you like, but certain varieties tend to work best for baking. The most traditional for this cake is Renetta, or Reine de Reinette. You could just as well use Granny Smith, Jonagold, Braeburn, or Honeycrisp apples.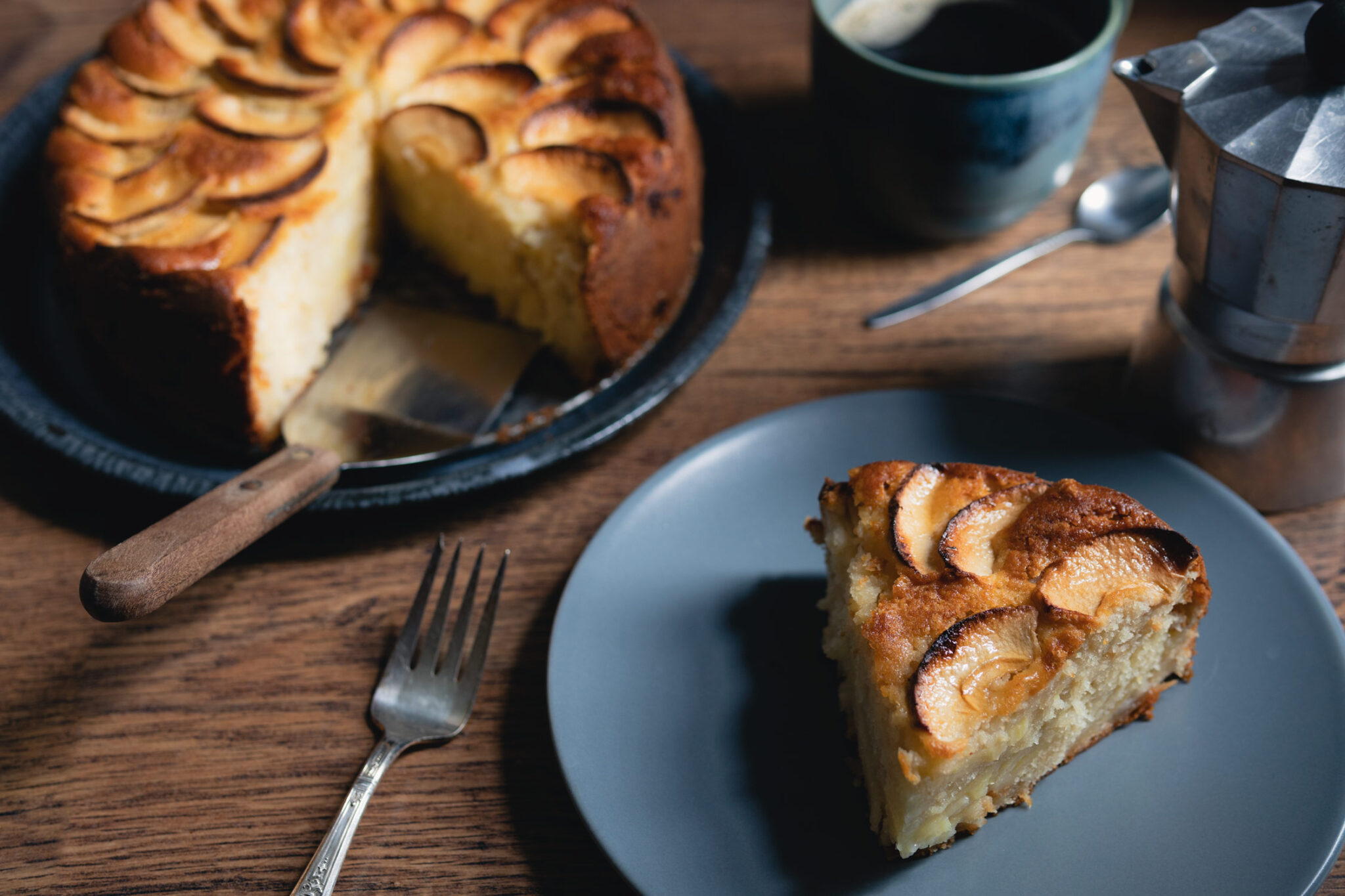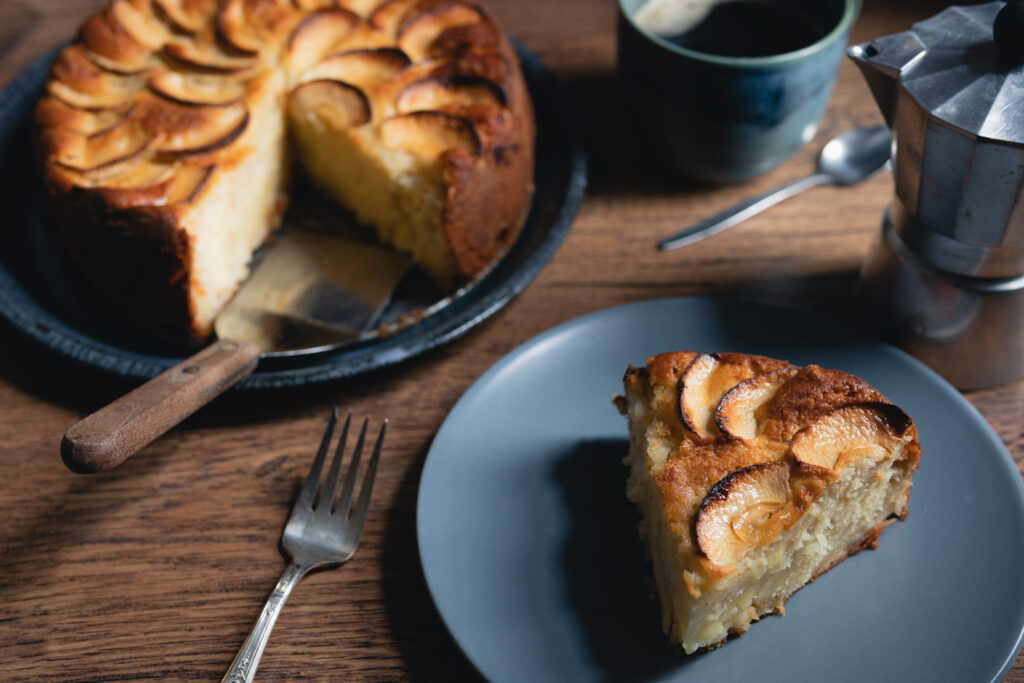 Ingredients
Yields one 8-inch cake.
6 Apples, about 700g once peeled and cored
1 lemon

240g plain flour
2 teaspoons baking powder
1/4 teaspoon salt

2 large eggs, room temperature
200g granulated sugar

115g unsalted butter, melted

120ml whole milk, room temperature
6 Apples, about 25-oz once peeled and cored
1 lemon

2 cups all-purpose flour
2 teaspoons baking powder
1/4 teaspoon salt

2 large eggs, room temperature
1 cup granulated sugar

1/2 cup unsalted butter, melted

1/2 cup whole milk, room temperature
Preheat the oven:
Preheat the oven to 175°C (350°F).
Prepare the cake pan:
Grease an 8-inch (20cm) springform cake pan with butter and dust with flour.
Prepare the apples:
Peel and core the apples, then slice them thinly.
Zest the lemon and save the zest in a small bowl. Juice the lemon in another bowl and toss the apples in the juice, coating them so they don't oxidize.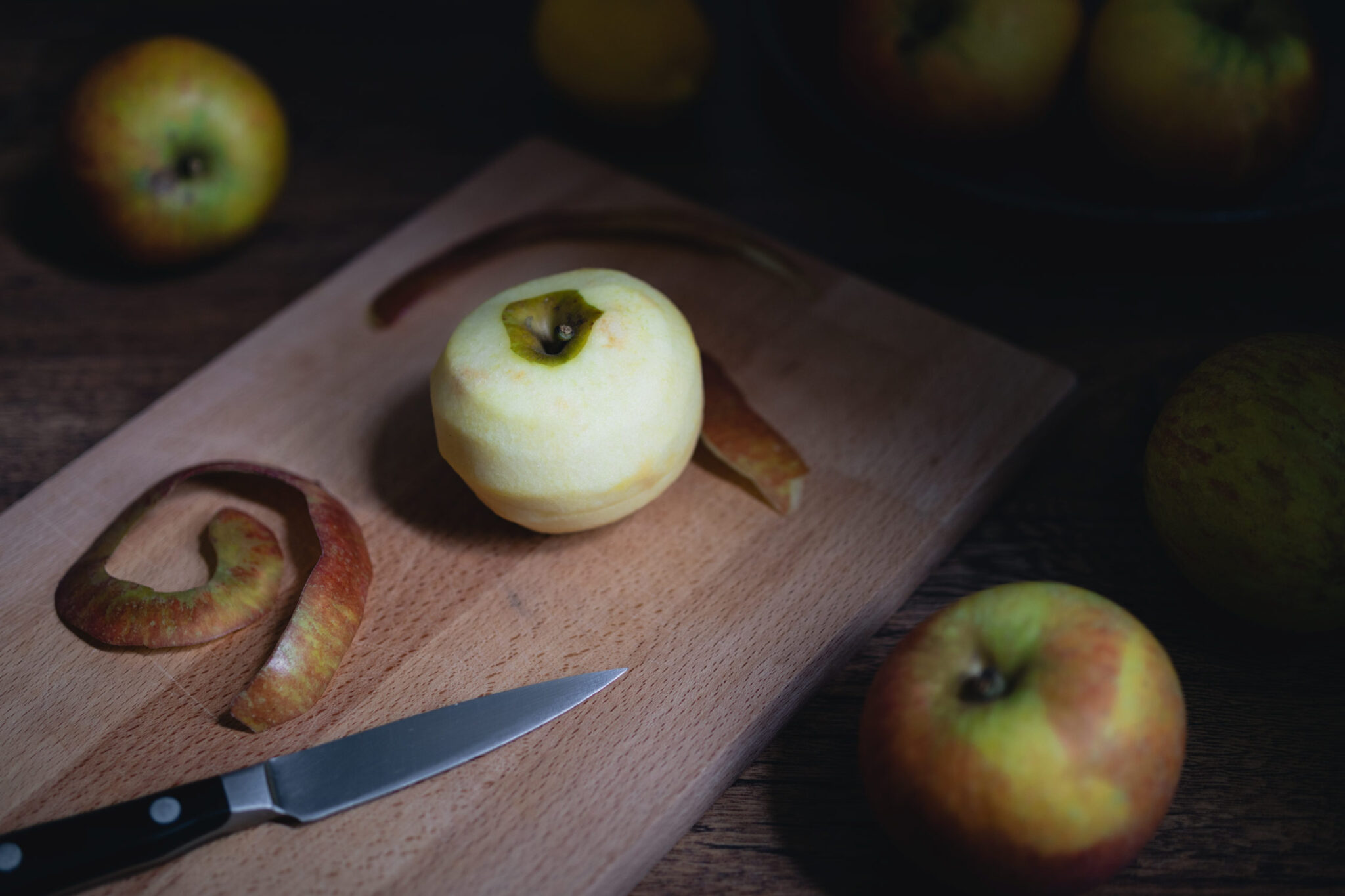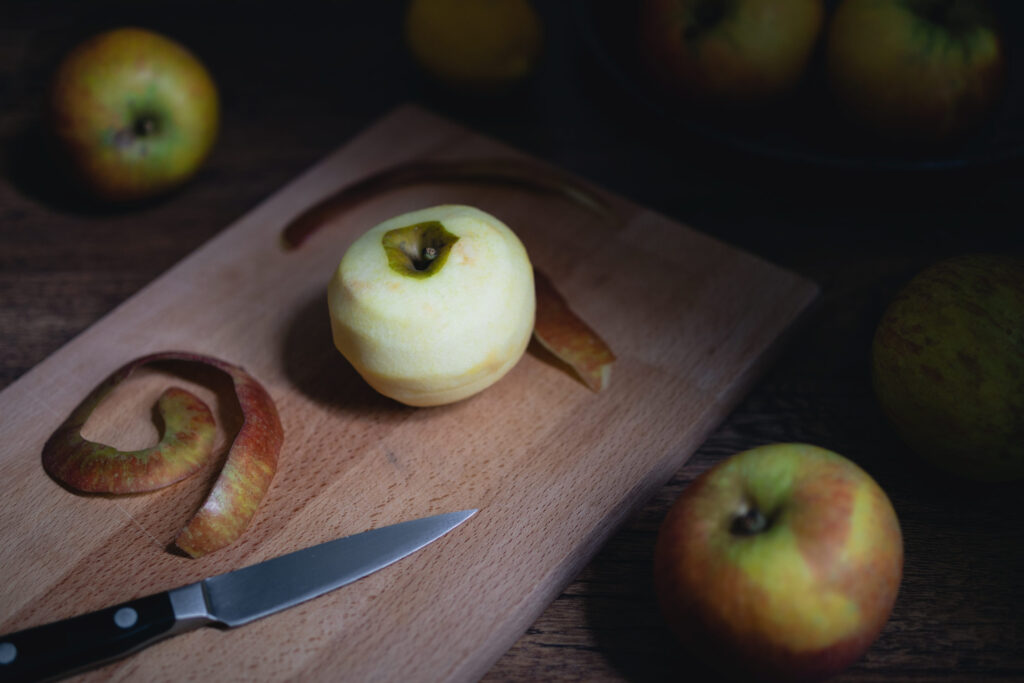 Sift the dry ingredients:
In a medium bowl, sift together the flour, baking powder and salt. Set aside.
Beat the egg and sugar:
In the bowl of a stand mixer with the whisk attachment, or in a large bowl with a hand mixer, whip the egg and sugar until pale and fluffy, about 5 minutes.
Mix in the butter and milk:
Slowly mix in the melted butter until fully combined. Then, slowly pour in the milk, mixing until combined.
Add the dry ingredients:
Add the lemon zest and the dry ingredients and fold gently with a rubber spatula until just combined. Try not to overmix.
Mix in the apples:
Stir in the apple slices along with any juice in the bowl, reserving some of the apples to decorate the top.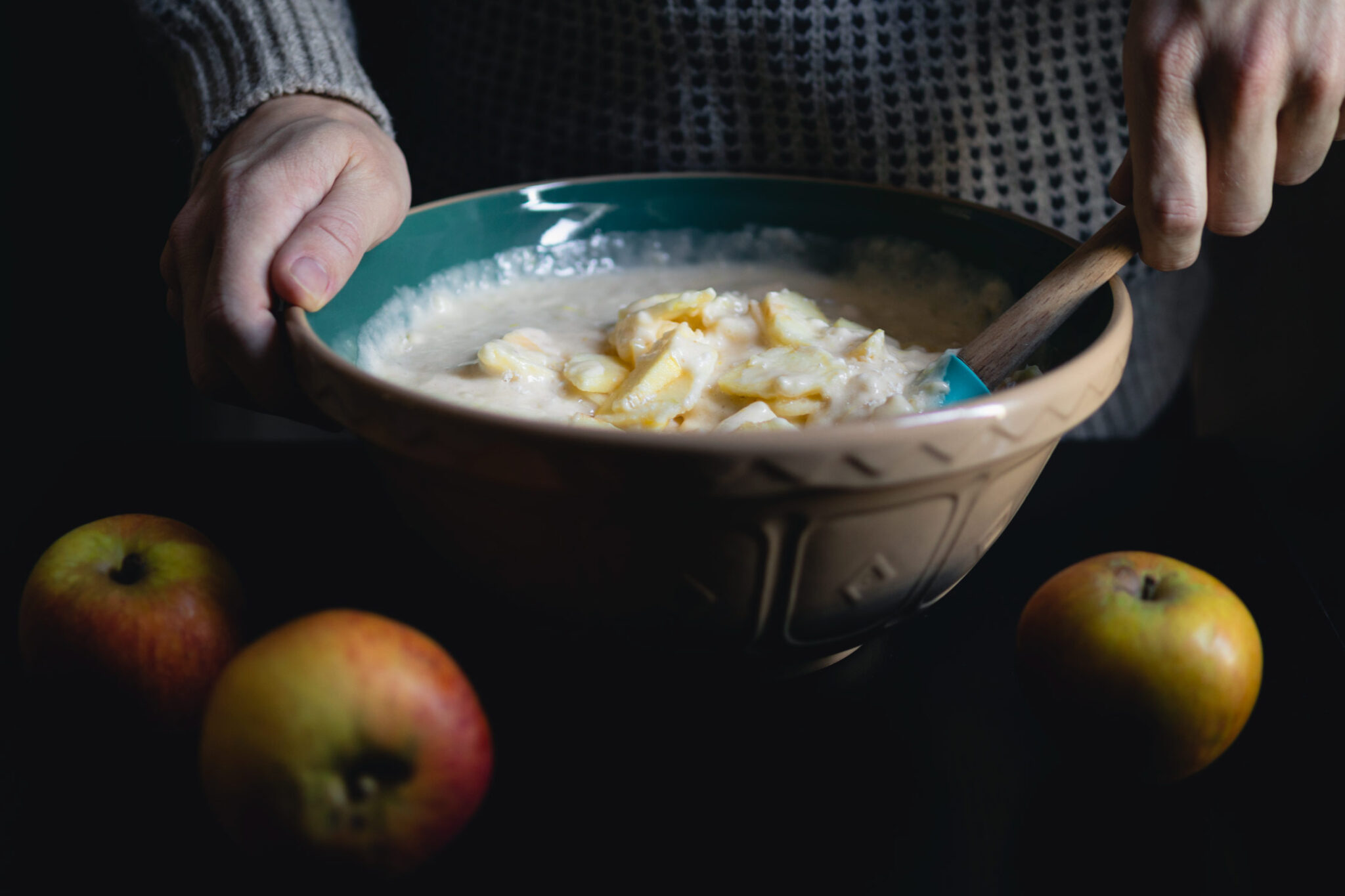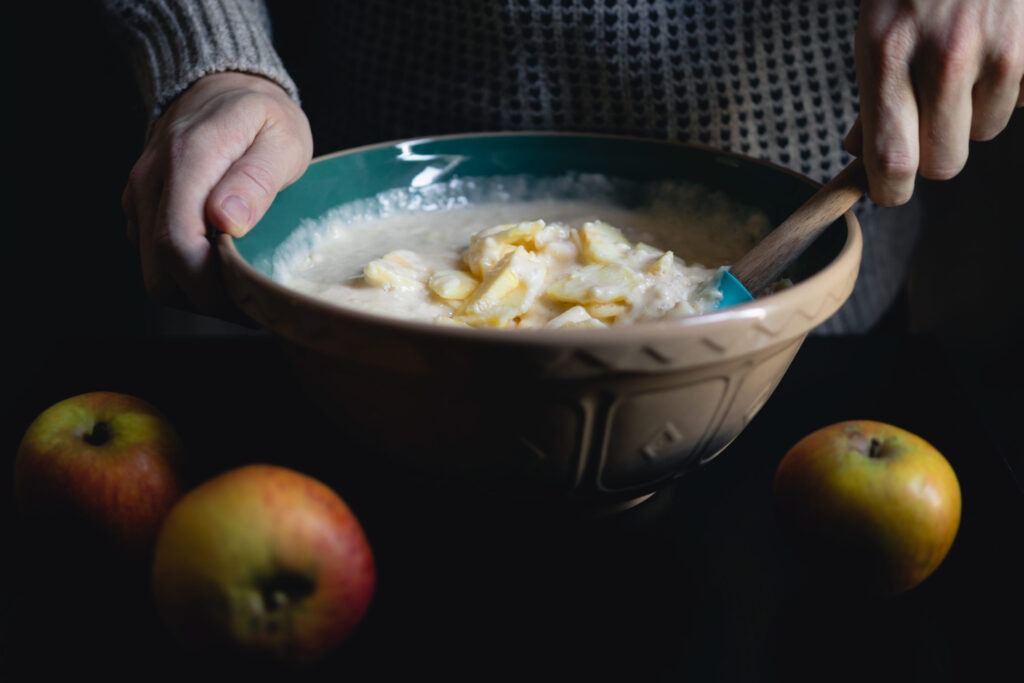 Decorate and bake:
Pour the batter into the prepared pan and arrange the reserved apple slices in a decorative pattern on top of the batter.
Bake the cake at 175°C (350°F) until lightly golden and a skewer inserted into the center of the cake comes out clean, about 60-70 minutes.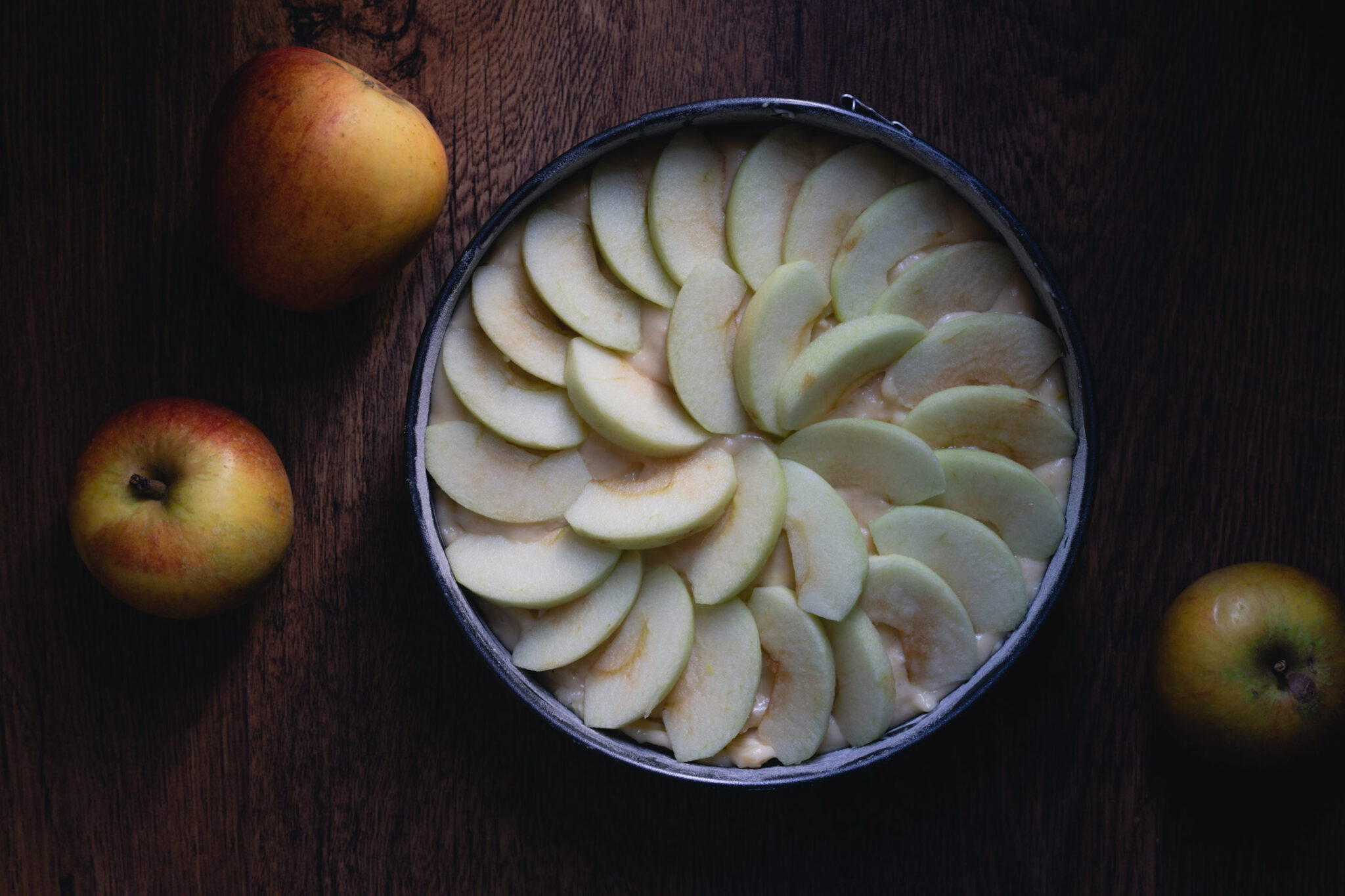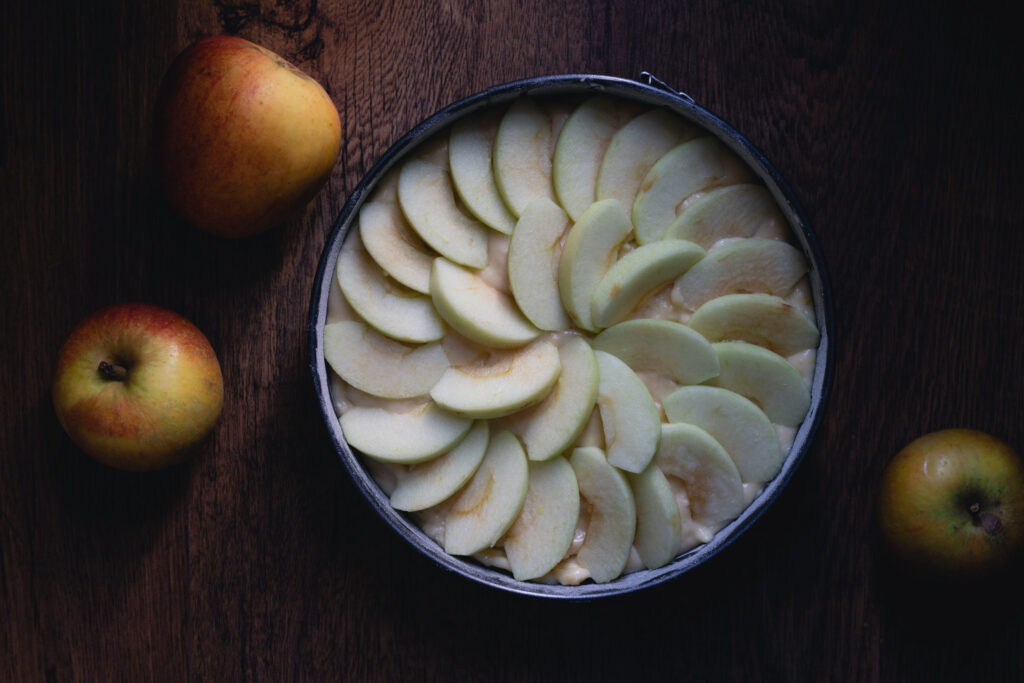 the Sunday Baker is a participant in the Amazon Services LLC Associates Program, an affiliate advertising program designed to provide a means for sites to earn advertising fees by advertising and linking to Amazon.com.